Regular price
Sale price
$14.97 USD
Unit price
per
Sale
Sold out
Share
Transform your life (and yes, how you eat) when you start to live as who YOU are IN CHRIST.

Dine on 6 weeks of study and experience true fulfillment as you deepen your understanding of who you truly are—IN CHRIST. Each day's passage helps you internalize and become more rooted in God's word, as you apply it to how you value yourself.
Dig into the study and let it nourish you—spirit, soul, and body. So you can stop struggling with your self-worth and sate your appetite with the meat of God's word!

YOU'LL LEARN…

See your self-worth struggles from a spiritual perspective so you can root your true identity where it belongs—in Christ.
Study the Scriptures to find God's specific word about how you value and treat yourself.
Replace the food you're using to fill your self-worth gap with spiritual nourishment through divine fellowship.
YOU'LL RECEIVE...

A detailed how-to study guide so you can dig in and savor the word!
A brief weekly teaching to introduce each new topic in your feast.
30 weekday Bible study worksheets with purposefully selected Scriptures that speak directly to your self-worth struggles.
6 weekly reflections to help you review and digest your lessons as you allow the Holy Spirit to transform how you value yourself.
BONUS truths from God's word to nourish your spirit and soul as you transform how you nourish your body.

It's so hard to see myself as who I am in Christ when I'm still struggling with my weight. What can I do? I get it—you love God and you're grateful for what Christ has done for you and you want to "do your part" first. I spun my wheels there for years (ok, decades). What I missed was the fact that until I saw myself as He saw me, I was destined to stay stuck because "our strength is only found IN HIM."
Let me encourage you, sis, to stop letting your weakness speak to your worth. Instead, let it reveal your need for Christ. This study will teach you how to walk out this new way of thinking, day-by-day. When you start experiencing the fullness He has for you, you'll have the faith and confidence to start making better choices.

Be sure to check out the original Chew the Word Scripture Study too! It helps you chew on spiritual and practical Bible truths, so you can quit questioning every bite and find peace with food instead.
This product is a DIGITAL DOWNLOAD and will be delivered to your email address. This is not a physical product and nothing will ship.
View full details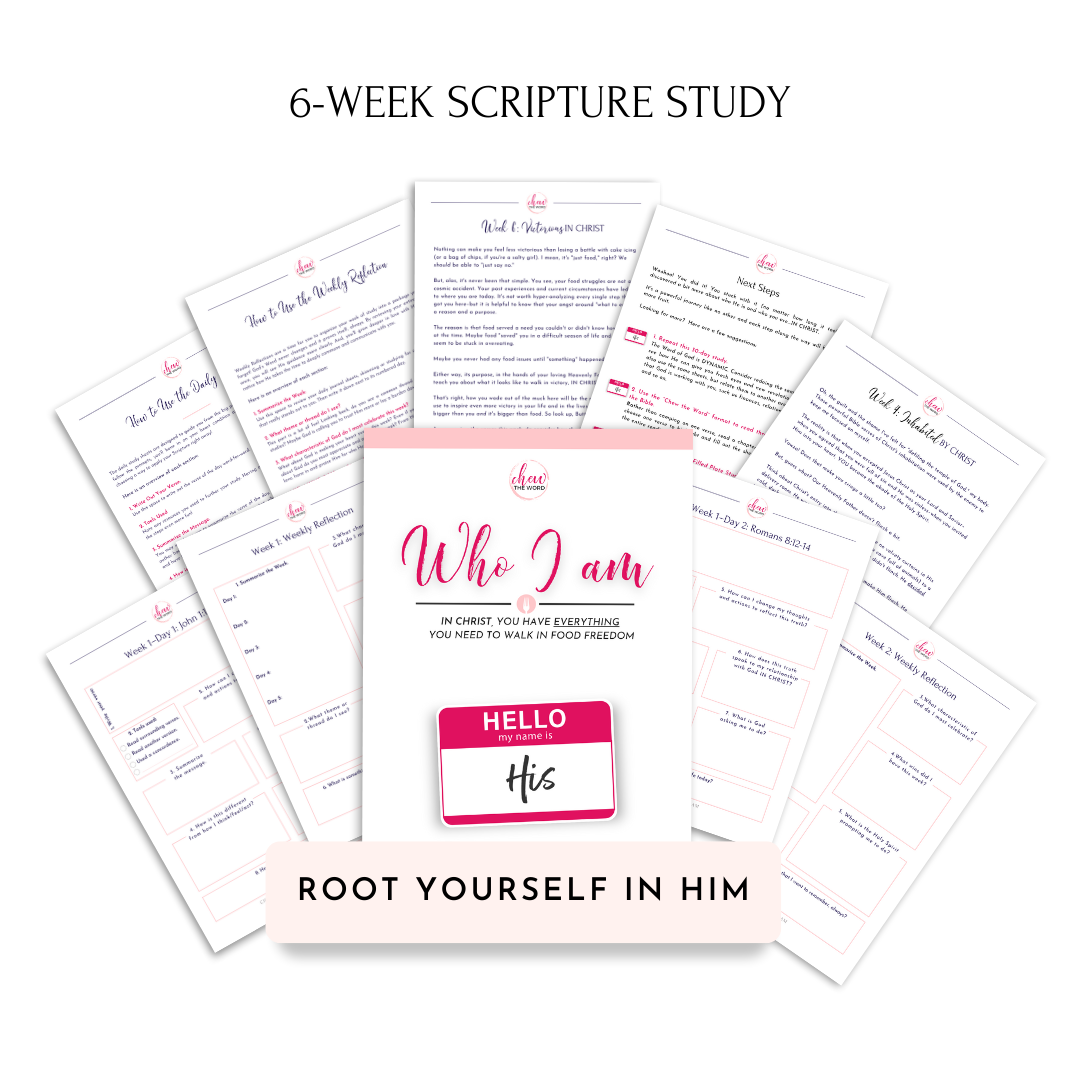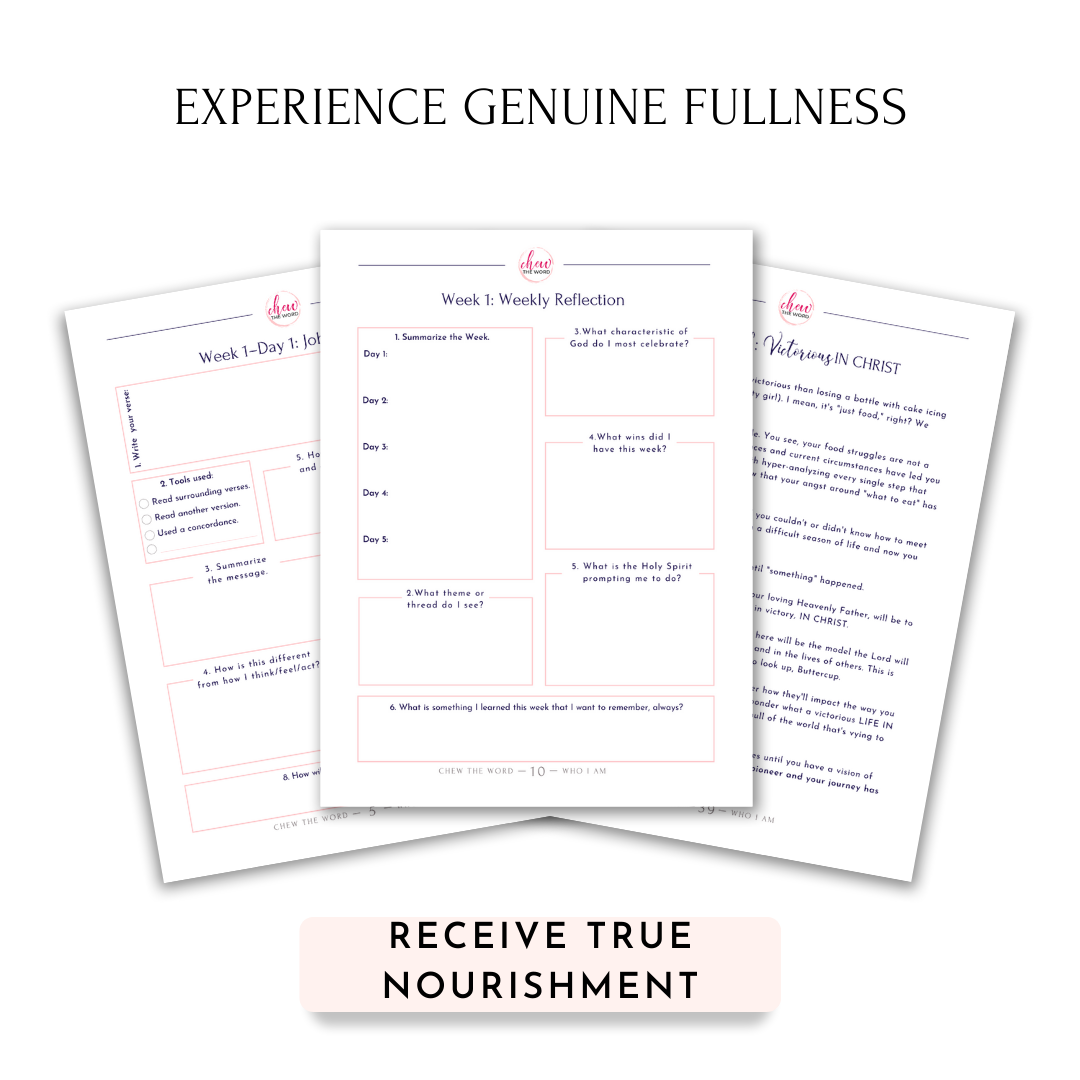 Practical, life-changing Bible studies
Chew the Word Bible studies are suitable for everyone! An easy, eight step process, clearly explained, makes God's word accessible to all. And you can complete them in 5 minutes or really spend more time digging into God's word.
Who I Am focuses on our identity in Christ and all the incredible blessings we have because of Jesus.
These studies will refresh and renew you!
Life Giving
I'm in week 2 of "chew" and am amazed at the fresh and relevant scripture to reflect on and apply. I'm not perfect but being rooted in the grace of God and a reminder of His sacrifice is life giving to me!
LOVE THIS!
This study does such a good job at taking things day at a time. I always love how Brandice breaks down the study in weeks and then into days. This makes it so manageable while being able to really "chew" into the lessons. God definitely spoke to me throughout this study and the knowledge I have learned will be used with me daily.
I am believing what GOD says!
Moving beyond negative self-talk is not easy. Those thoughts sneak in. The Who I Am Chew the Word equipped me to notice them quickly. This study added Truth to my thinking and equipped me to practically renew my mind. By week 4 I noticed I was detaching from lies and believing what God says. I felt a freedom to love myself as He loves me.
"Who I Am" totally transformed my thinking!
I can't express how grateful I am that you allowed me to preview this AMAZING CHEW! OH. MY. GOODNESS!! The things the Lord revealed to me…so, here we go : )
I was one of those girls who thought I completely rested in the work of Jesus and understood how I did not need to strive to be loved and accepted by Him…but completing the "Who I Am" Chew, totally transformed my thinking.
I have always struggled with finding my place to fit in and in a group I tend to feel like an outsider, even with God to a certain degree. Kinda like the girl who had been invited to the party but no one talked to her, so she hung out on the fringes hoping no one would notice but just so thankful to have been sent the invitation.
What I hadn't realized was how I had been applying that same thinking to my relationship with God. Like He allowed me to enter into His presence but in a sea of believers I did not have a seat at His banquet table, but I felt so grateful just to be in the room.
I also saw how I tend to take on too much when it comes to God, meaning too many Bible Studies, too much sermon watching, too much podcast listening to the detriment of not spending time with my family because I had so much "God stuff" to do and the Spirit showed me
I was STRIVING to earn God's favor, as if the more God things I piled on the more He would know how much I loved Him and devoted to Him I was. This study helped set me free and really accept who I am in Christ. Thankful for yet another way I have been set free!
Shipping

DIGITAL DOWNLOADS and will be delivered to your email address. These are not physical products and nothing will ship.

The Grace Filled Plates paperback and Spiral bound Studies will be printed and shipped by a thrid-party.

Refunds

🖥 DIGITAL PRODUCT REFUND POLICY

Use any DIGITAL product for 30 days and if you're not happy with the changes in how you think and feel, simply email Brandice@GraceFilledPlate.com for a full refund within 48 hours. 

📒 PRINTED PRODUCT REFUND POLICY

All sales are final. We do not accept returns on PRINTED items.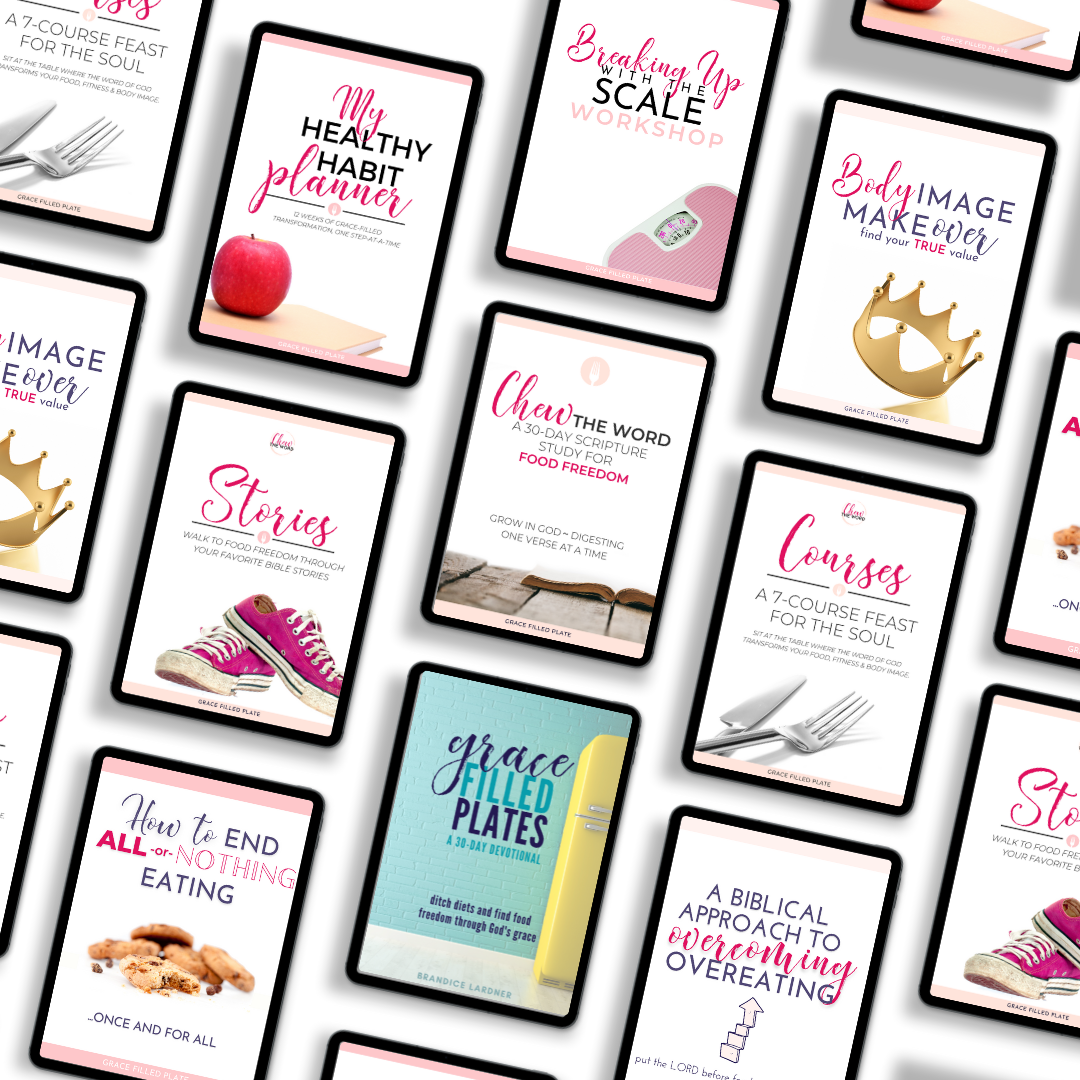 Get on the road to food freedom
Resources created to help you ditch diets, eat well, and let your light shine!