Regular price
$67.00 USD
Sale price
$27.00 USD
Unit price
per
Sale
Sold out
Share
Leave unattainable diet perfection in the dust and discover how to embrace God's grace in your eating.

In this life-changing course, learn how to get off the negative all-or-nothing, black-or-white dieting roller coaster. You'll find the solution in the Truth that sets you free, as you seek His face and reignite your hope for sustainable change.
Turn your gaze from how far you have to go and focus instead on the real, lasting changes you can start making today.
YOU'LL LEARN...

The 4 sneaky ways all-or-nothing thinking trips you up and why you cling to it anyway.
Why your perception of success and failure is keeping you stuck.
The ONE thing that can move you past all-or-nothing eating, even if you feel hopeless.
What the Word of God says about your struggles (it's NOT what you think!).
How to make healthy food choices that help you reach your weight-loss goals.
YOU'LL RECEIVE...

11 text, audio, and video lessons that guide you on your journey to becoming a powerful Jesus girl.
An All-or-Nothing course workbook in our popular Chew the Word Bible study style, so you can hear the voice of the Holy Spirit as He helps you change your mindset about food and dieting.
Supportive emails with extra nuggets of wisdom that energize you to keep going on your all-or-nothing journey.
If I stop seeking diet perfection, won't I be overweight forever? The hidden truth nobody's telling you is that your unrealistic, perfectionistic expectations are keeping you stuck in an endless, frustrating all-or-nothing dieting cycle. They cause you to let go of all logic and make emotional, often unhealthy food choices.
When you learn how to let go of diet perfectionism, you'll empower yourself to stop negative downward spirals earlier and earlier. until they're nothing but a speck in your rearview mirror.
Be sure to check out Body Image Makeover too! It helps you heal your relationship with your body so you can feel happy in your own skin, even as you make healthy changes.}
This course is delivered to you through a third party platform. Please allow up to 30 minutes for your log-in info and your next steps, which will arrive in 2 separate emails. Check your spam folder or email us at Brandice@GraceFilledPlate.com if your log-in email goes missing!

View full details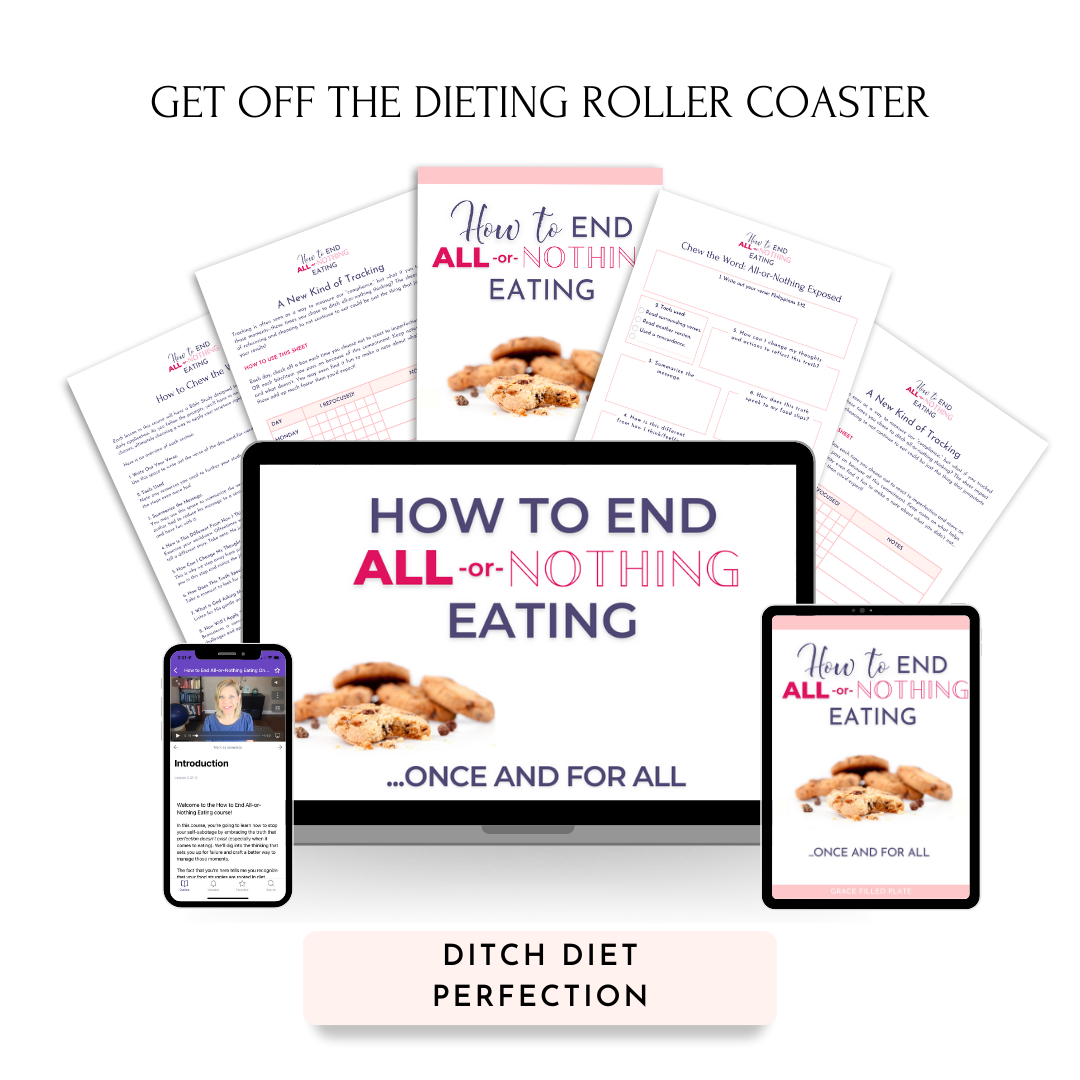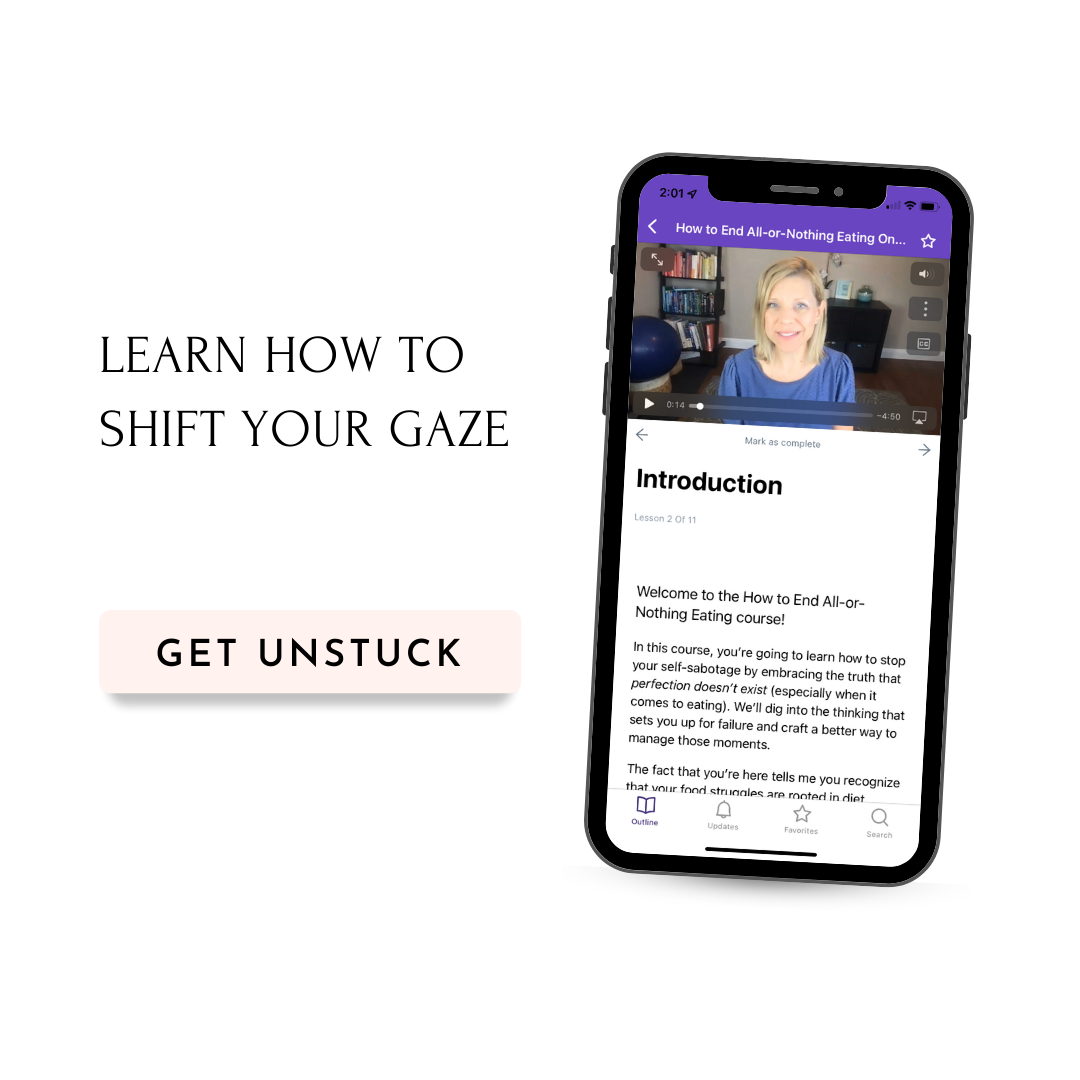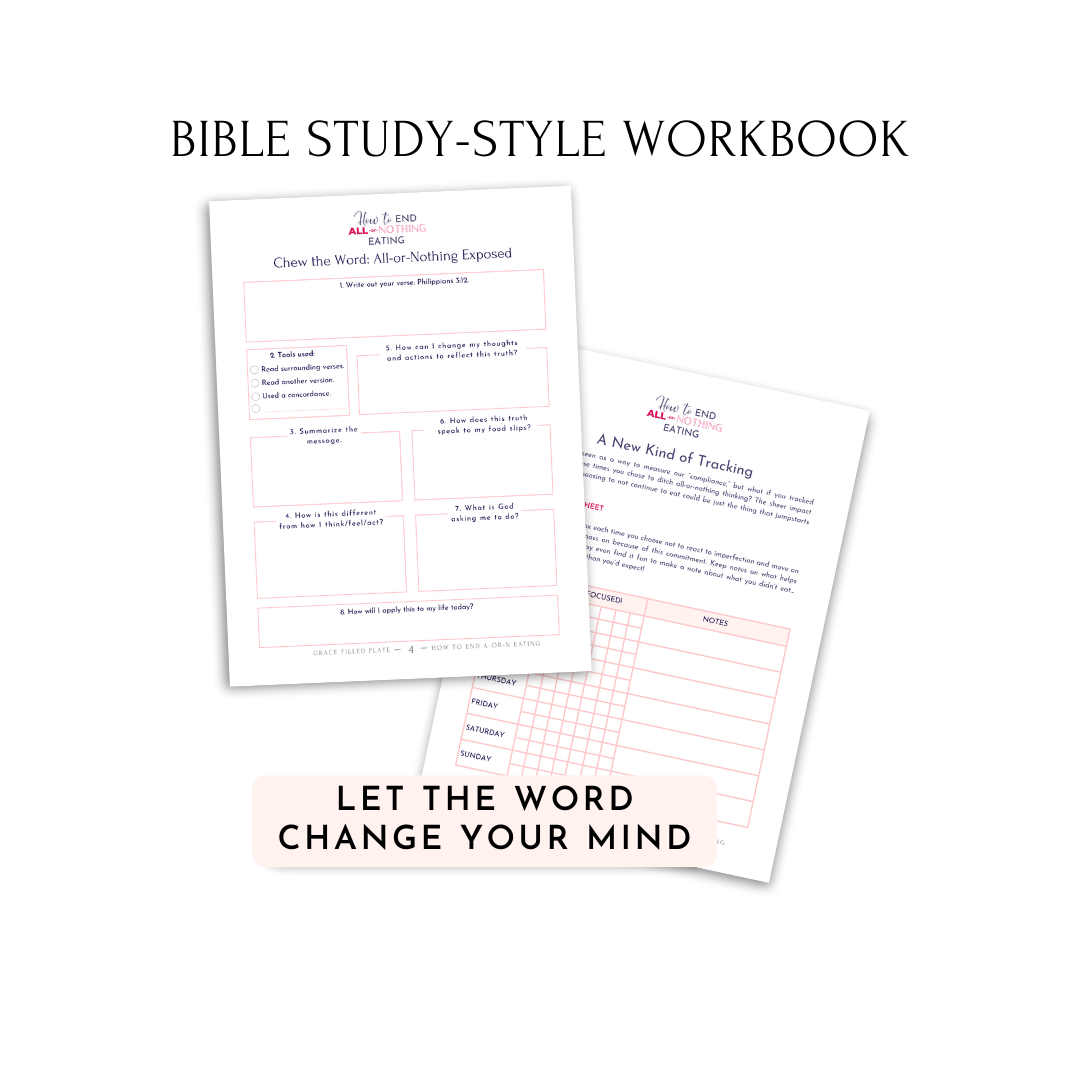 How to end all or nothing eating
So helpful for those of us who fall into the trap of perfectionism. This helped open my eyes to the ways diets were failing me rather than helping me! Can't say enough about how enlightening this study has been!!!
More than I expected!
Not only did this help me from an "all or nothing mind mentality", but it also surprised me by deepening my relationship with God. That was not what I expected going into this course. I knew I wanted help with food and wanted it centered around God, but WOW! I feel like I was given SO MANY TOOLS and methods I can use on an ongoing basis. Thank you for creating this program, it's a gift.
ENLIGHTENING!
It was well worth it as you learn to look at food from a different
perspective and how it all relates to what God has been providing
us all throughout our lives and yet never really give it much thought.
So good!!
I honestly had no idea how much the all-or-nothing mindset was affecting my life, both food-wise and otherwise (and I'm still learning all the ways)! This course is amazing for teaching you not just how to overcome this way of thinking (and eating!) but also, how to prioritize and recognize progress along the way. It really shows the freedom we have through Christ to be ever growing in our reflection of Him in every area of our lives (rather than flipping a switch and expecting the absolute perfection only Christ can attain).
How to End All or Nothing Eating
An answer to prayer. Nothing out there like this. Thank you
Shipping

DIGITAL DOWNLOADS and will be delivered to your email address. These are not physical products and nothing will ship.

The Grace Filled Plates paperback and Spiral bound Studies will be printed and shipped by a thrid-party.

Refunds

🖥 DIGITAL PRODUCT REFUND POLICY

Use any DIGITAL product for 30 days and if you're not happy with the changes in how you think and feel, simply email Brandice@GraceFilledPlate.com for a full refund within 48 hours. 

📒 PRINTED PRODUCT REFUND POLICY

All sales are final. We do not accept returns on PRINTED items.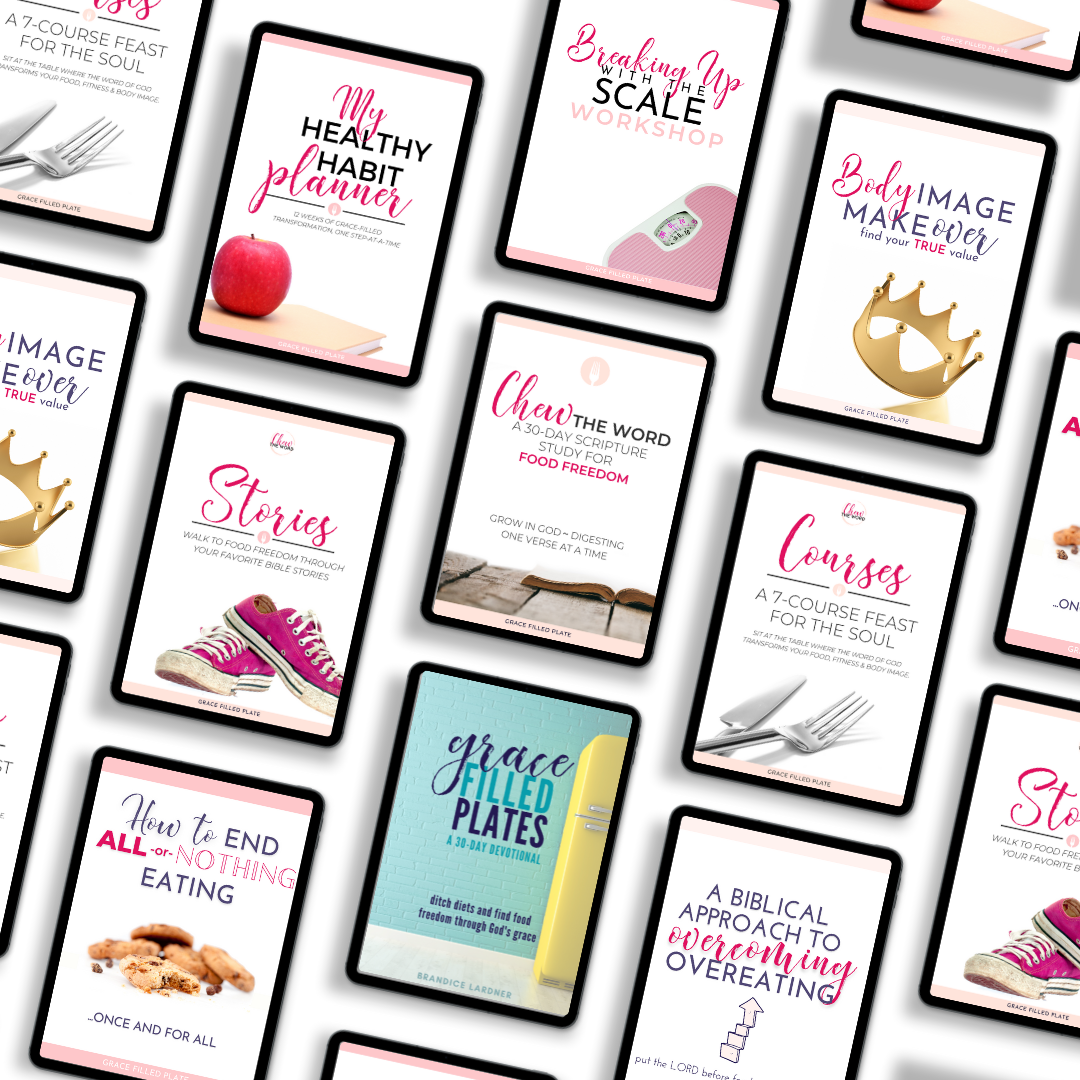 Get on the road to food freedom
Resources created to help you ditch diets, eat well, and let your light shine!