Regular price
$67.00 USD
Sale price
$27.00 USD
Unit price
per
Sale
Sold out
Share
Heal your relationship with your body so you can feel happy in your own skin, even as you make healthy changes.
In this action-packed course, learn how to ditch your negative talk about your body, which only leads you to eat MORE. Instead, you'll bask in peace and freedom as you discover your worth and value in Christ, without giving up on losing weight!
Take back the territory the enemy has stolen from you and let your God-given beauty radiate the love of Christ.
YOU'LL LEARN HOW TO...

Stop letting the scale dictate your mood, reactions, and eating choices.
See how your negative self-talk creates your day-to-day diet struggles, and use that knowledge to inspire immediate change.
Create a purposeful plan to combat the world's lies and values, and replace them with the truth of God's Word.
Connect with what you love and admire in others, so you can start loving those things in yourself.
Be consistent so you can finally see the progress you've been longing for.
YOU'LL RECEIVE...

11 text, audio, and video lessons that guide you on your journey to becoming an inspired Jesus girl who knows her worth and value.
A Body Image Makeover course workbook in our popular Chew the Word Bible study style, so you can hear the voice of the Holy Spirit as He helps you change your body image mindset.
Supportive emails with extra nuggets of wisdom that energize you to keep going on your body image journey.
BONUS Renewing Your Mind Action Kit, so you're prepared to fight negative thoughts when they try to sideline you.
BONUS "That's just what I needed!" Video Library of easy-to-digest wisdom and encouragement for your journey to peace in your self-perception.
Does God really care about my body image struggle? Yes, He does! Our creator cares about your deepest needs, and He knows them better than you know yourself. He knows you're scared that He'll leave you overweight and unhappy in your own skin.
But when you let the Lord into your body image, He heals you from the inside out. You learn to base your value in His word and find peace outside of your appearance. Then food's role in your life will take a back seat as you start pursuing what matters to the glory of God.
And you'll look up and see that you've paved the way to reach your goals in a healthy and happy way!
Be sure to check out How to End All-or-Nothing Eating too! It helps you kick unattainable diet perfection to the curb and embrace God's grace in your eating.
This course is delivered to you through a third party platform. Please allow up to 30 minutes for your log-in info and your next steps, which will arrive in 2 separate emails. Check your spam folder or email us at Brandice@GraceFilledPlate.com if your log-in email goes missing!

View full details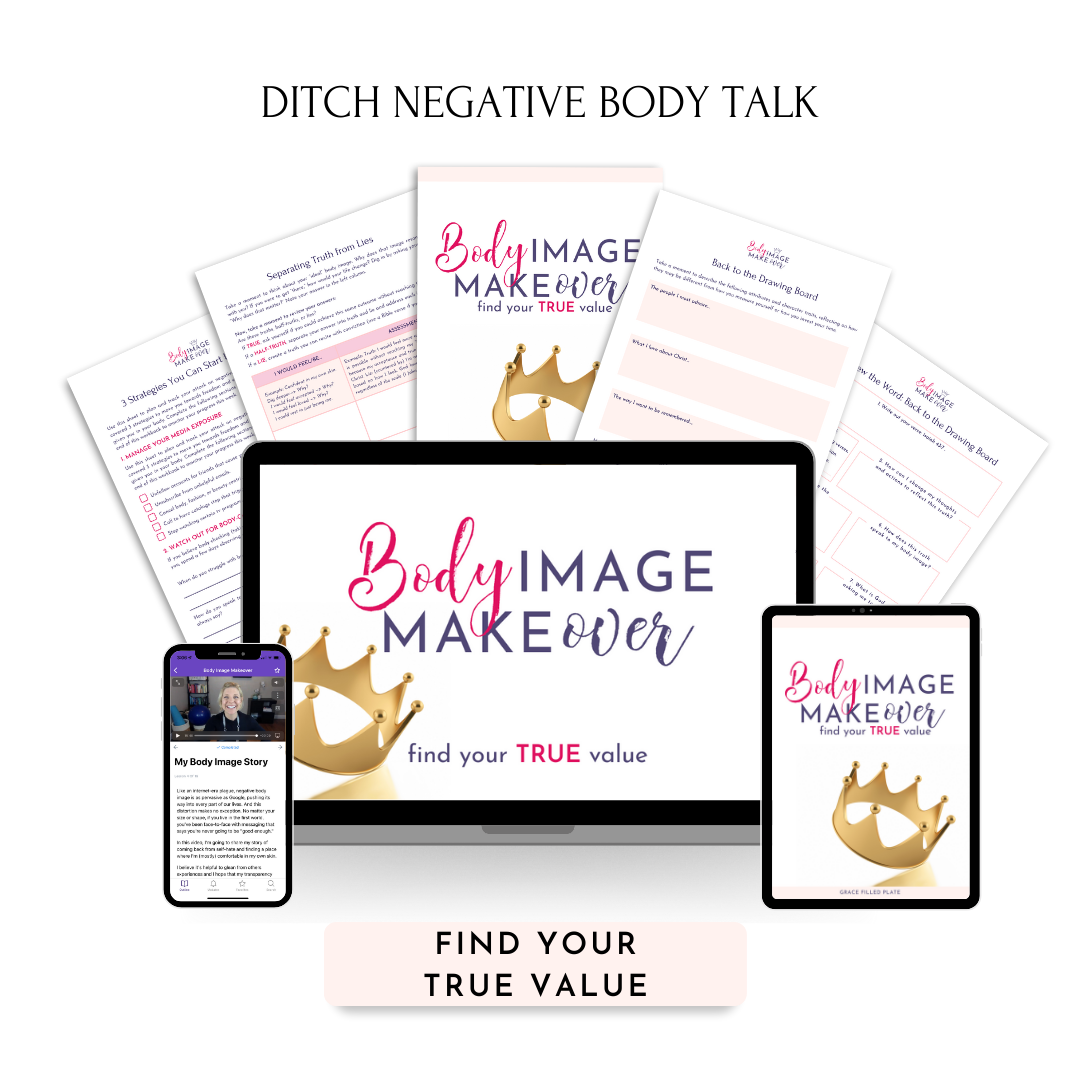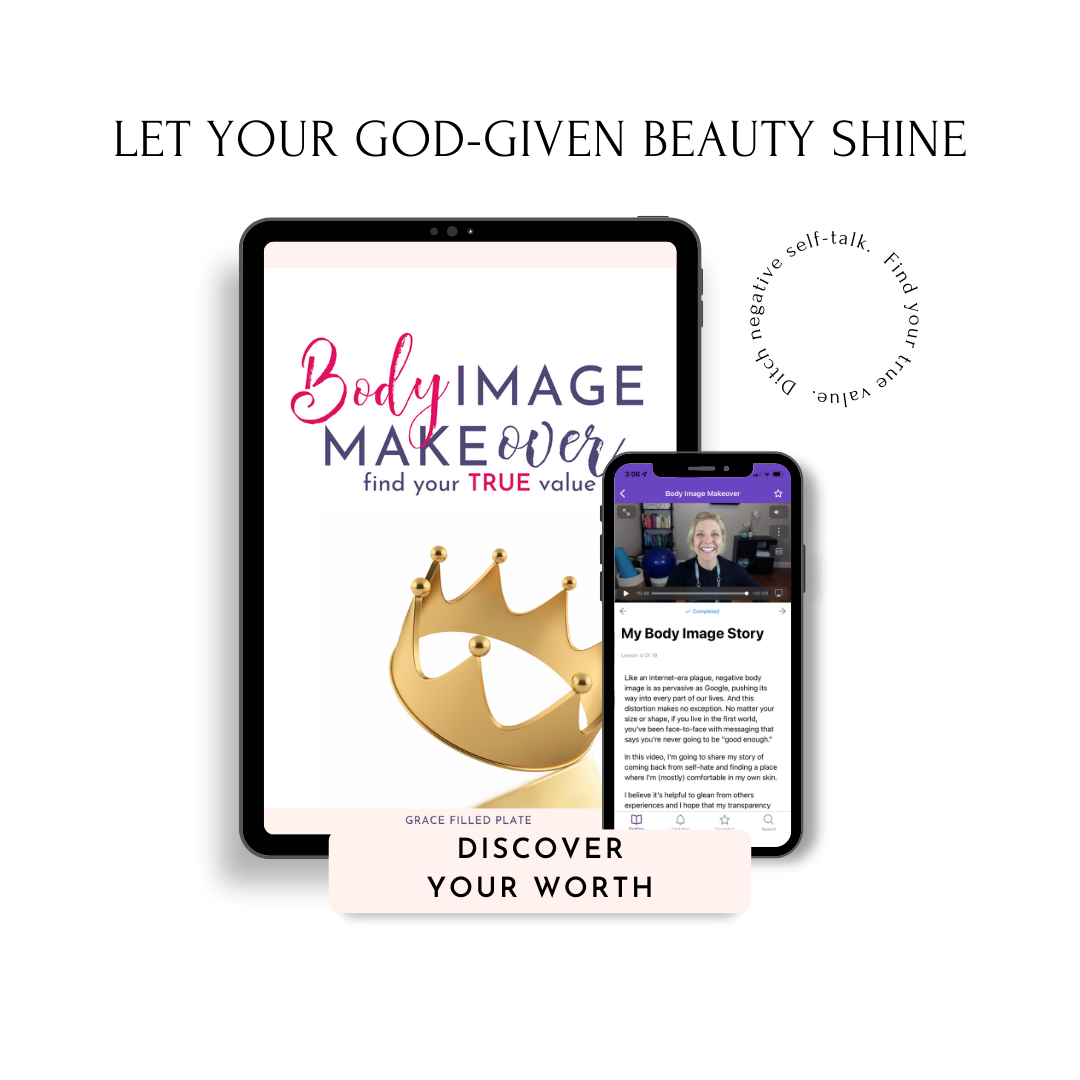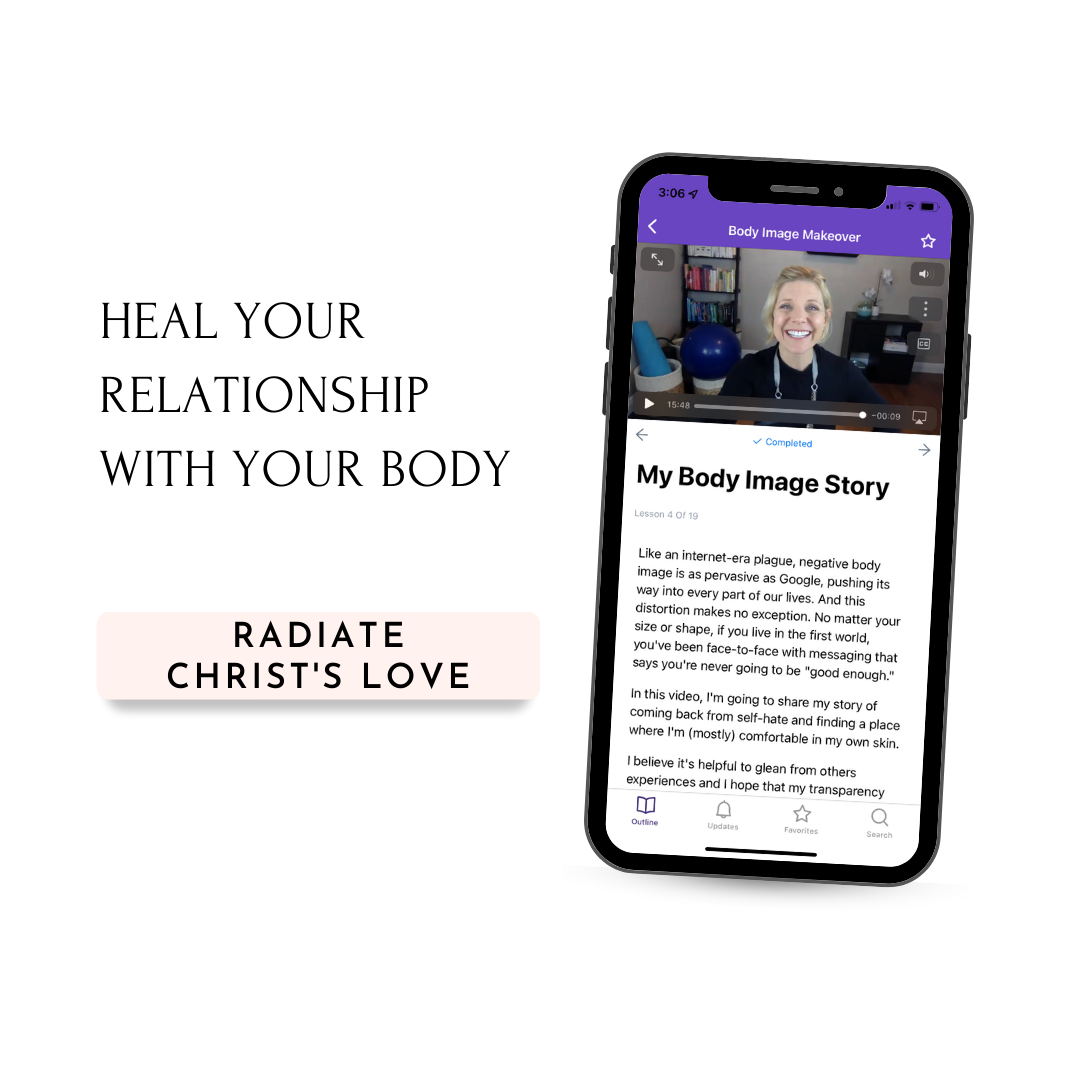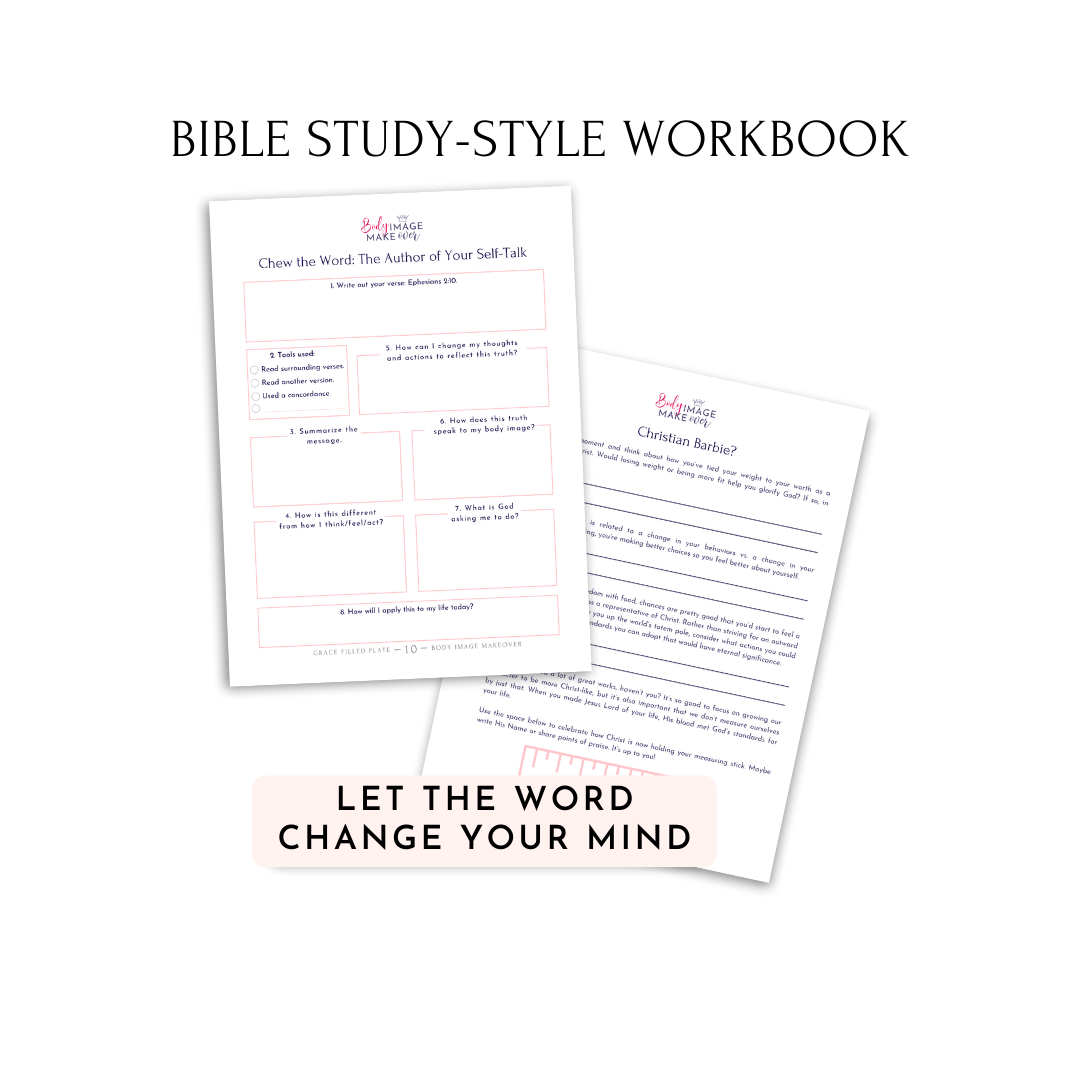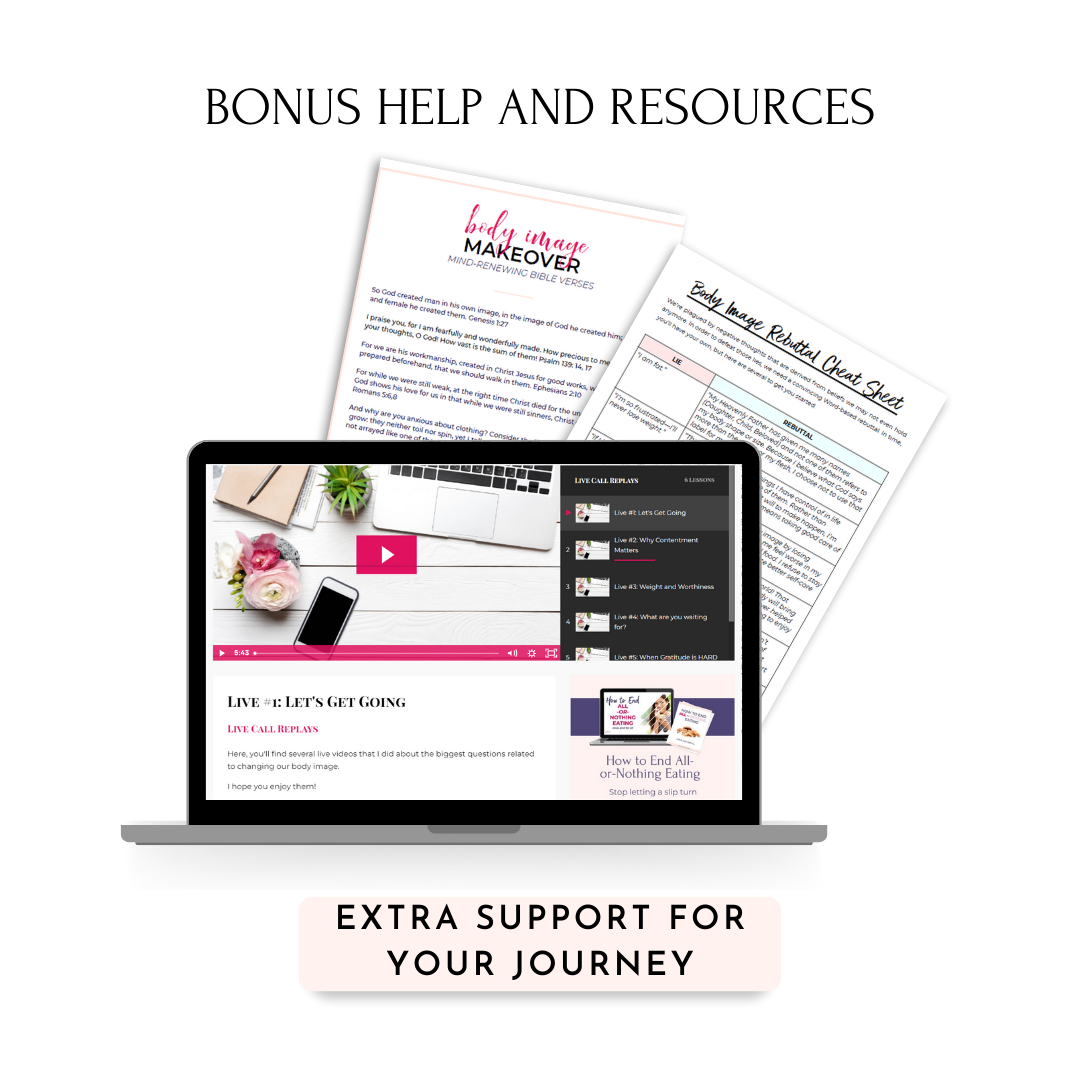 I feel stronger and overwhelmed by His love!
After going through the course, I feel stronger and overwhelmed by His love– reminded that I am made in His image!
The course was very thorough and covered everything!
This course has opened my eyes to the importance of body image and that at this time in my life, it truly is the biggest difference in allowing me to have any victory and peace in my weight struggles. Although I have addressed over-eating and weight issues for years, I have never targeted my own body image.
The course was very thorough and covered everything! The hardest part for me is changing over 40+ years of negative self talk and feelings of condemnation but, this course has given me plenty of scriptures, food for thought and strategies to help bring my focus back to GOD.
Thank you Brandice for all of your resources and for bringing GRACE into my overeating, weight and body image struggles for the very first time in my life. I really appreciate you and Grace Filled Plate!
I'm hopeful!
I'm learning to be thankful for my body. I made the connection that– if there were no mirrors or scales, what would I eat?! Now, I want to think about eating for energy.
I'm finding FREEDOM!
I'm SO grateful for the Body Image Makeover and I have changed my thinking about myself completely. No more hatred! I have new habits I'm practicing and drew lines of thinking that I never want to cross again. I don't weigh myself anymore now, and am grateful for being free from being a number!
Helpful, relatable, and eye opening!
Love this, I am glad I purchased it. I will be reviewing it daily. Thank you.
Shipping

DIGITAL DOWNLOADS and will be delivered to your email address. These are not physical products and nothing will ship.

The Grace Filled Plates paperback and Spiral bound Studies will be printed and shipped by a thrid-party.

Refunds

🖥 DIGITAL PRODUCT REFUND POLICY

Use any DIGITAL product for 30 days and if you're not happy with the changes in how you think and feel, simply email Brandice@GraceFilledPlate.com for a full refund within 48 hours. 

📒 PRINTED PRODUCT REFUND POLICY

All sales are final. We do not accept returns on PRINTED items.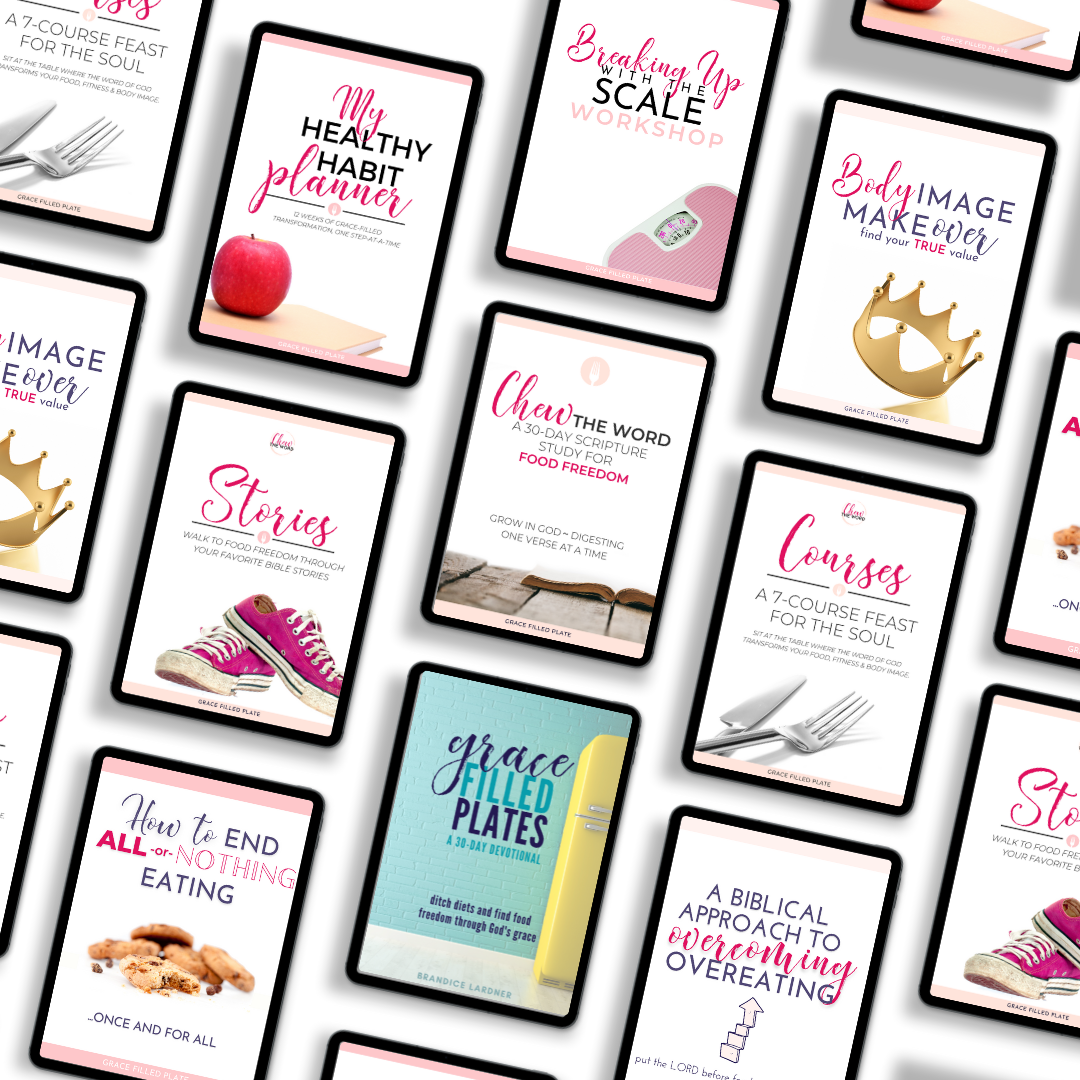 Get on the road to food freedom
Resources created to help you ditch diets, eat well, and let your light shine!