Regular price
Sale price
$24.97 USD
Unit price
per
Sale
Sold out
Share
Chew the Word [Original] is more than a study; it's a transformative journey towards freedom and peace with food. If you are a Christian woman who is tired of the endless cycle of overeating, stress eating, and preoccupation with food, then this study is designed specifically for you!
This simple but introspective study format will provide you with tools and guidance you need to break free from the chains of food struggles. Ask the Lord to guide you in finding YOUR "how to eat" in the pages of His Word. 
By aligning your thoughts about food with Biblical truth, you'll increase your food freedom, grow in your relationship with God, and more deeply embrace His grace!
You'll Receive:
Detailed how-to study guide

with examples so you can jump in with both feet 

30 weekday Bible study worksheets

with purposefully selected Scriptures that speak directly to your food struggles

Daily action steps

for each day of your study

6 weekly reflections

so you can keep the voice and direction of the Holy Spirit front and center in your eating.

BONUS Chew the Word Celebration Cheat Sheet

to help you get in the habit of noticing your wins and celebrating your successes
This is not a diet. 
This is not a food plan.
Chew the Word [Original] is Bible study designed to provide Biblical insight into your food struggles with our simple Bible study structure that will reveal personal direction from God's Word about how to eat. 
Through daily readings and  weekly reflections, you'll gain a deeper understanding of your relationship with food and how God can use this journey to grow you closer to Him.  
This study may empower you to break free from the burdens of overeating, emotional eating, guilt, and condemnation, enabling you to eat for the glory of God (on "good" days and "not-so-good" days).
Imagine waking up each day with renewed confidence and peace, knowing that you are partnering with the Lord and no longer relying on yourself. 
With Chew the Word [Original], you'll discover practical strategies to overcome overeating and make healthier choices. You'll learn to find solace in God's Word during moments of temptation, equipping yourself with the truth of His Word to face any eating challenge. 
This study is specifically tailored to the needs of Christian women who desire to lose weight, find freedom from food struggles, and cultivate a deeper spiritual connection through God's Word.
Whether you're facing down a double-decker brownie sundae or navigating everyday eating challenges, Chew the Word [Original] will be your companion on the journey to food freedom. Say goodbye to questioning every bite and hello to a life filled with peace, joy, and a renewed sense of purpose.
Embrace what God says about you, and experience the transformative power of aligning your eating habits with God's Word. Order Chew the Word [Original] today and embark on a 30-day journey of self-discovery, spiritual growth, and lasting change.
Did you know? You can save on shipping by adding Courses Spiral Bound and Stories Spiral Bound to your order! No more wondering what to do in your quiet time with the Lord. When you get the entire Chew the Word Spiral Bound Edition series, you score 17 whole weeks of tuning into God's guidance for YOU on your walk to food freedom.
This product is not eligible for additional coupons or discounts.
This product is not returnable/refundable. 
This book is custom printed and will take, on average, 5-10 days to print. Once your book ships from our independent printer, you'll be able to track it until it lands on your doorstep. 
View full details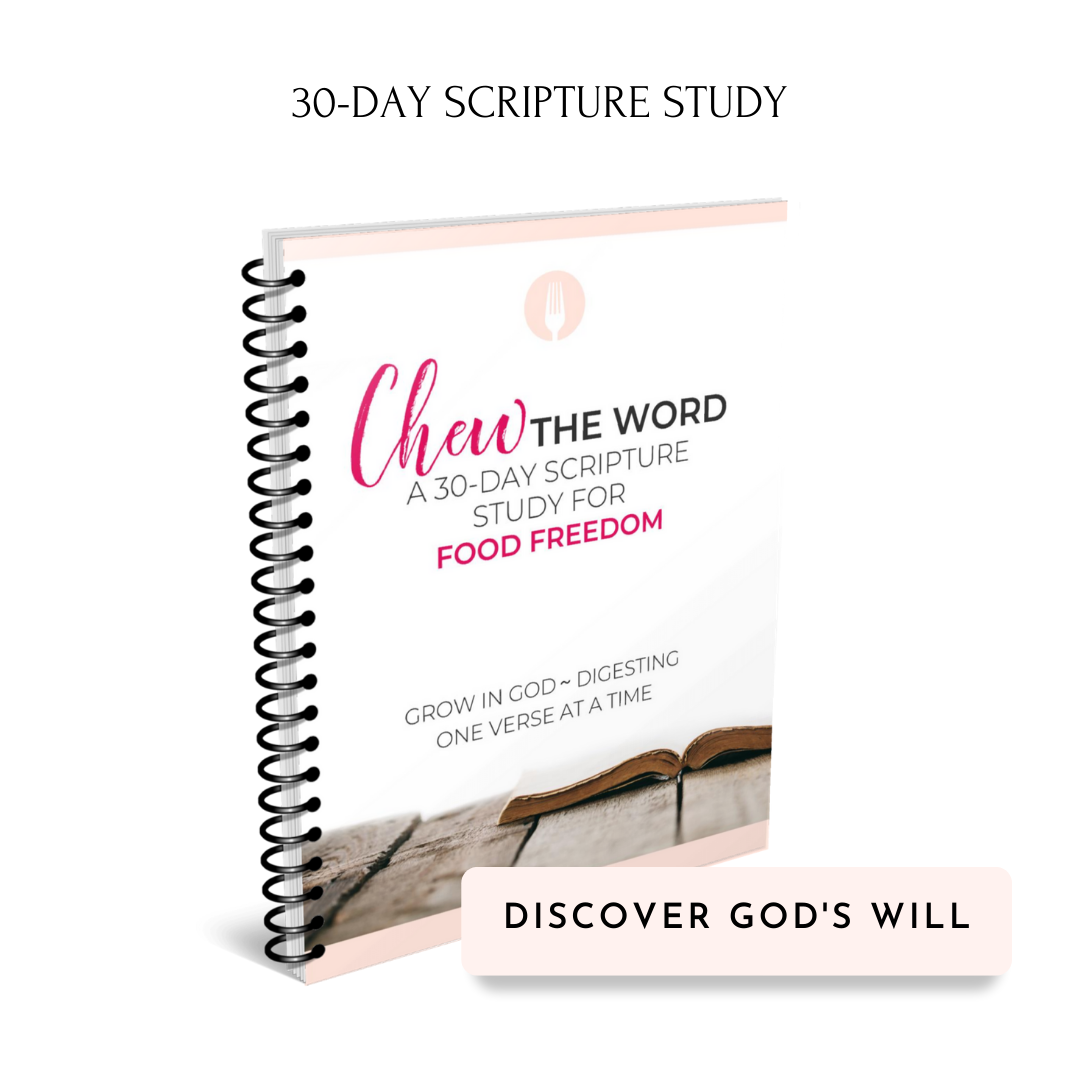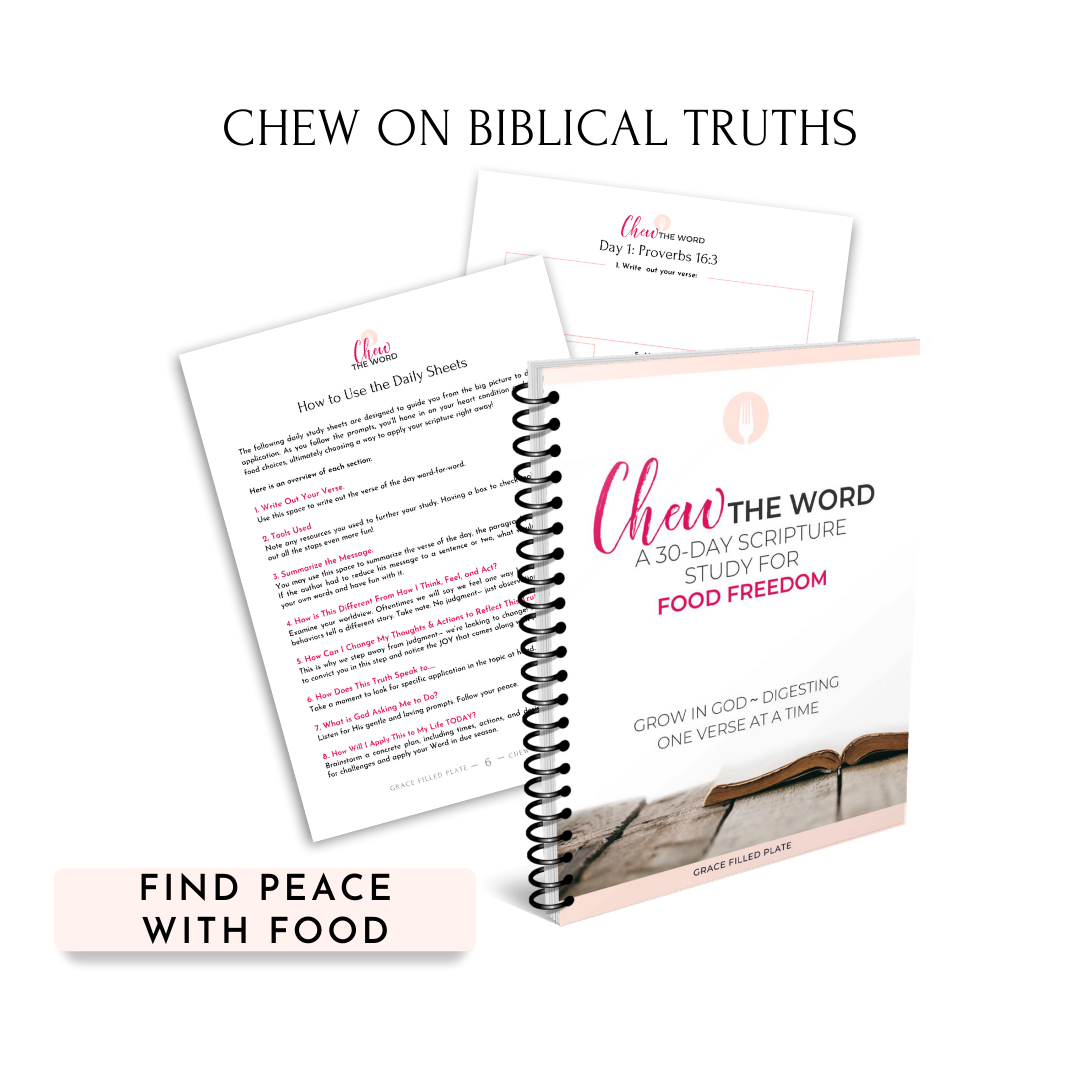 Fantastic
This had me thinking about things that go much deeper than just food on the very first day. Highly recommend!
very helpful
This is helping me sooooo much!!!!!!!I am very thankful for grace filled plate!!!
Back At His Table… Chewing!
Can't say enough great things about this study! I have always been convinced God had to be the power behind transforming my unhealthy relationship with food, but I needed an anointed path to follow - Chew Course takes me daily right to the Table of His Word in life-altering ways!
Shipping

DIGITAL DOWNLOADS and will be delivered to your email address. These are not physical products and nothing will ship.

The Grace Filled Plates paperback and Spiral bound Studies will be printed and shipped by a thrid-party.

Refunds

🖥 DIGITAL PRODUCT REFUND POLICY

Use any DIGITAL product for 30 days and if you're not happy with the changes in how you think and feel, simply email Brandice@GraceFilledPlate.com for a full refund within 48 hours. 

📒 PRINTED PRODUCT REFUND POLICY

All sales are final. We do not accept returns on PRINTED items.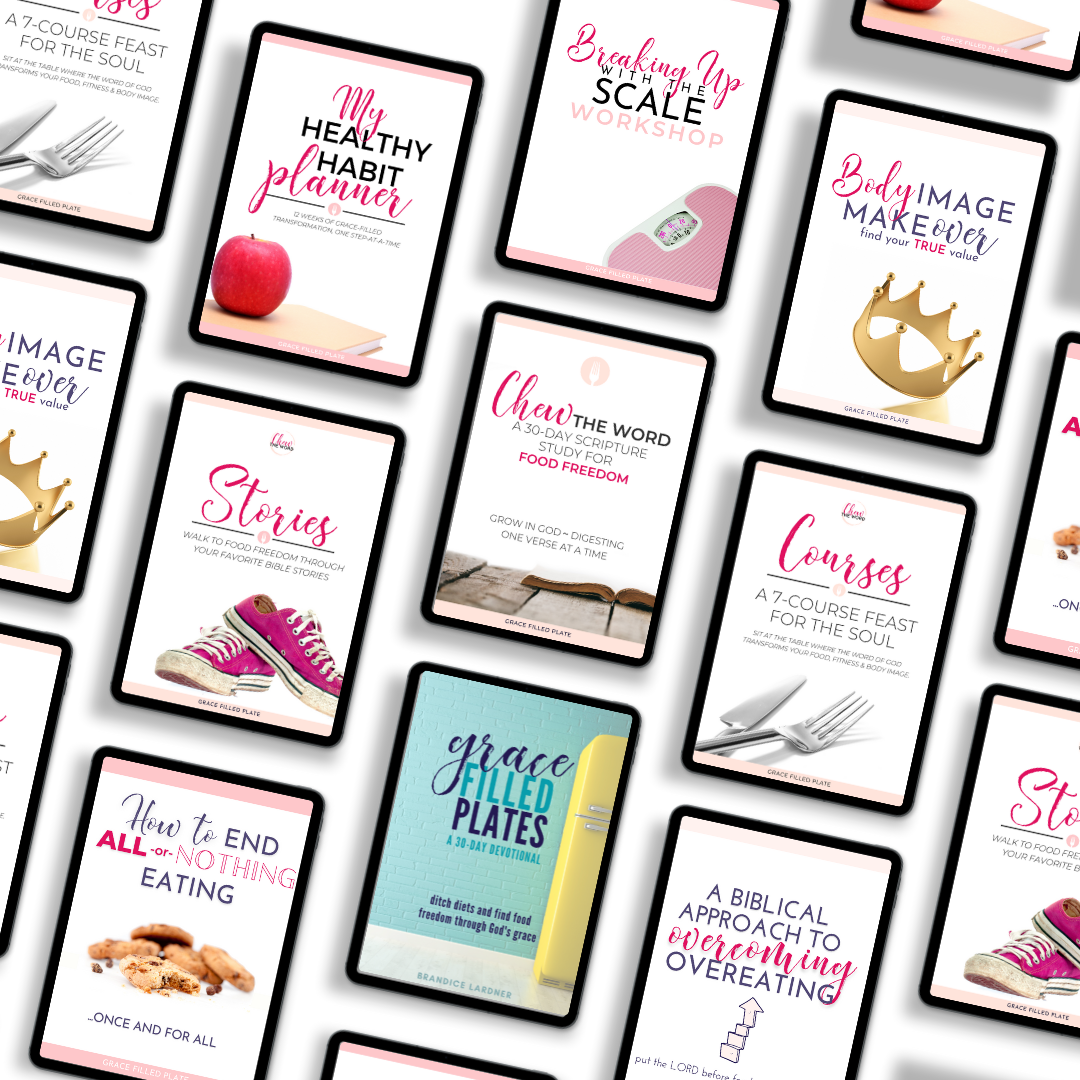 Get on the road to food freedom
Resources created to help you ditch diets, eat well, and let your light shine!