Regular price
Sale price
$9.97 USD
Unit price
per
Sale
Sold out
Share
Learn how to stop measuring your worth with a metal box so you can start to see yourself as fearfully and wonderfully made.

In this easy-to-digest but impactful workshop, learn why the scale is one of your biggest enemies in your weight-loss battle. You'll let go of your love/hate relationship with it as you look for validation from the One who knows you best.
Let go of your love/hate relationship with the scale as you replace the lies it's been telling you with the truth from God's word.

YOU'LL LEARN...

Why the numbers on your scale have such a tight grip on you.
Why the scale is not an accurate measurement of progress, and what is instead.
Exactly how to ditch the lies on your scale for the truth of God's Word.
How to come up with your very own personalized approach to the scale (because it's not one-size-fits-all).
YOU'LL RECEIVE...

A video lesson that shows you the pros and cons of weighing yourself and how to apply Biblical wisdom to your relationship with the scale.
Course worksheets to help unearth what's fueling your relationship with your scale, and guidance to getting back what it's stolen from you.

If I stop weighing myself, won't I be overweight forever? The hidden truth nobody's telling you is that the scale is hindering real progress that you could be making. When you re-evaluate how you measure your progress, you'll empower yourself to achieve healthy, lasting results (and that could include using the scale as a tiny part of that measurement).
Hey, have you checked out the Healthy Habit Planner? It helps you decide what progress means for you, and teaches you how to track it, the grace-filled way!
This workshop is delivered to you through a third party platform. Please allow up to 30 minutes for your log-in info and your next steps, which will arrive in 2 separate emails. Check your spam folder or email us at Brandice@GraceFilledPlate.com if your log-in email goes missing!

View full details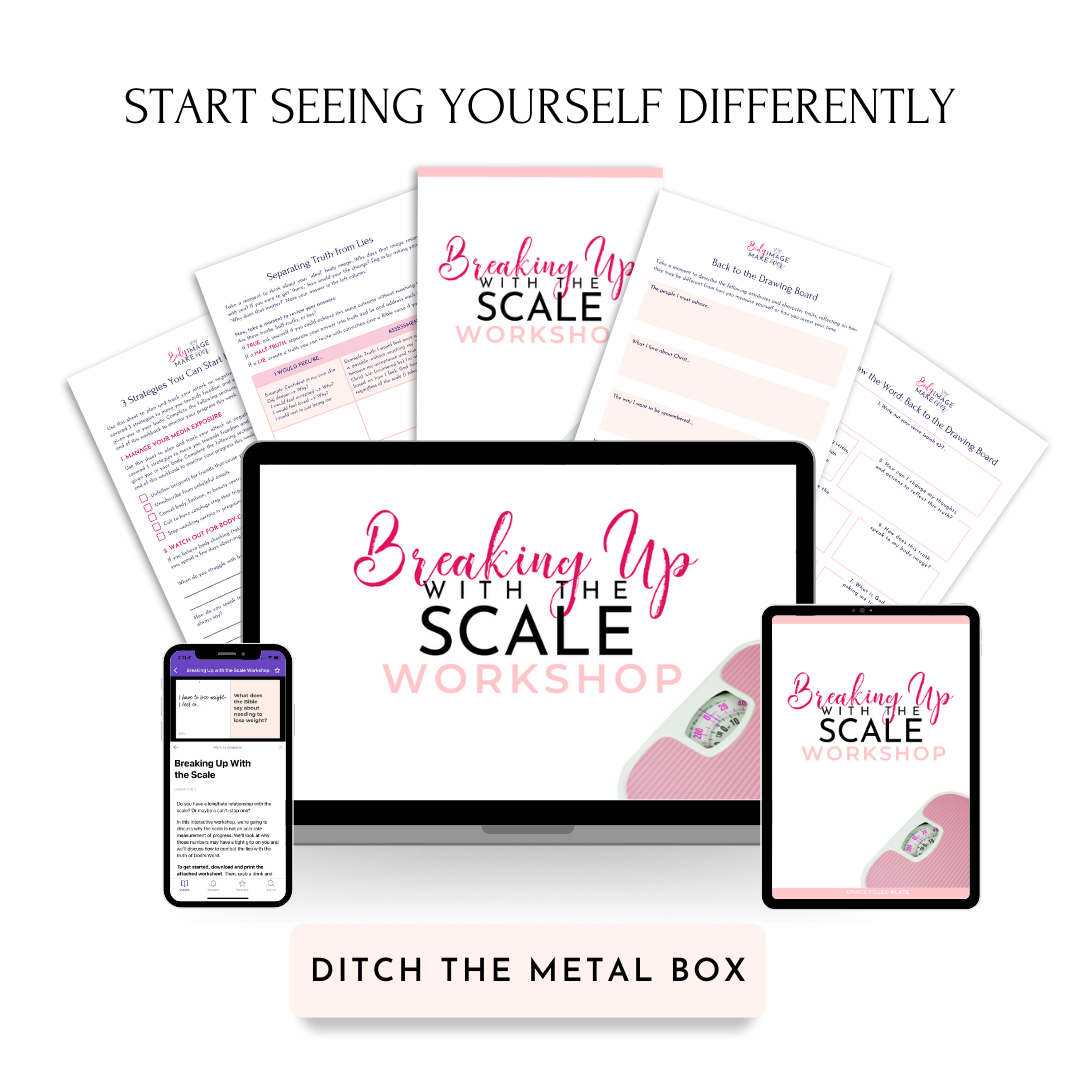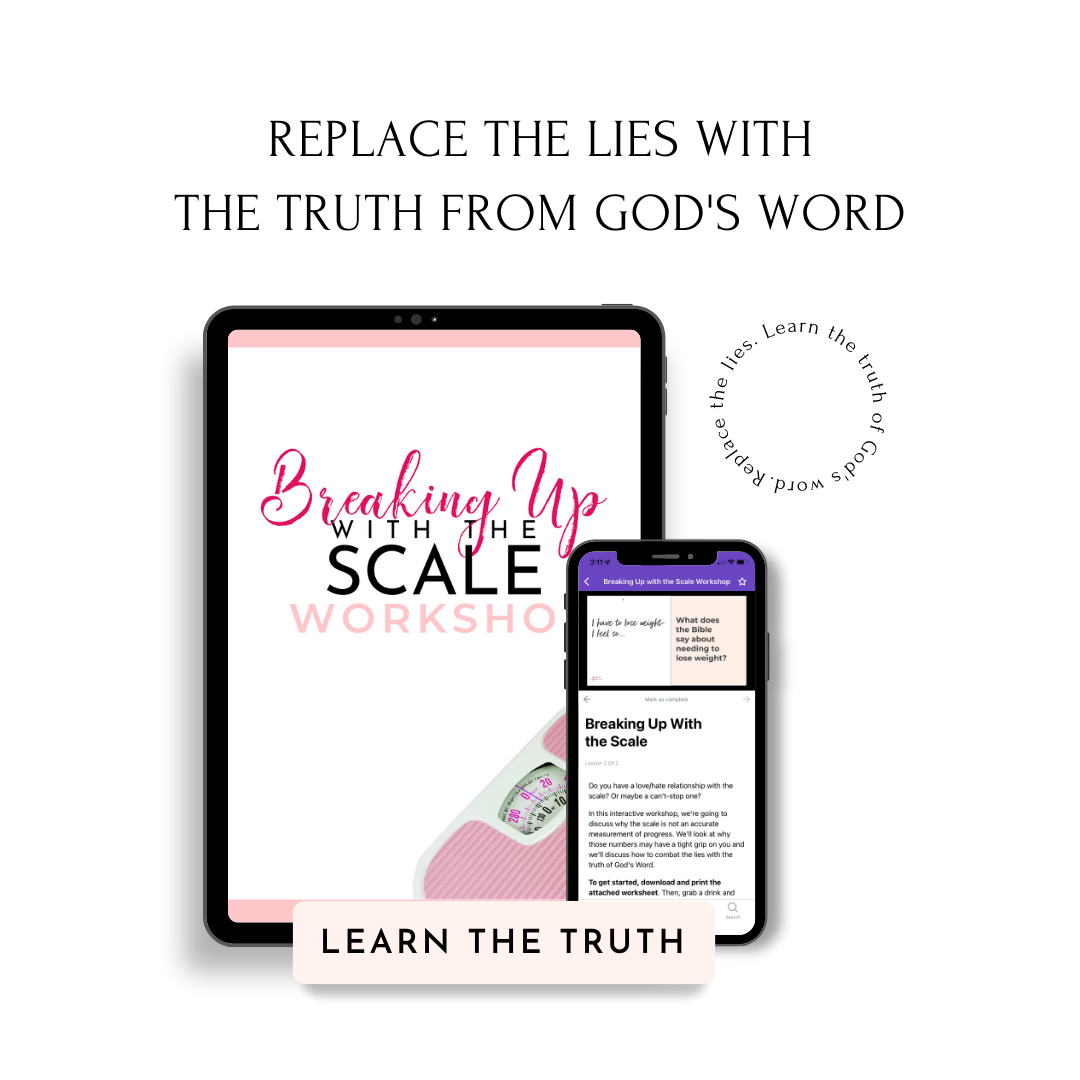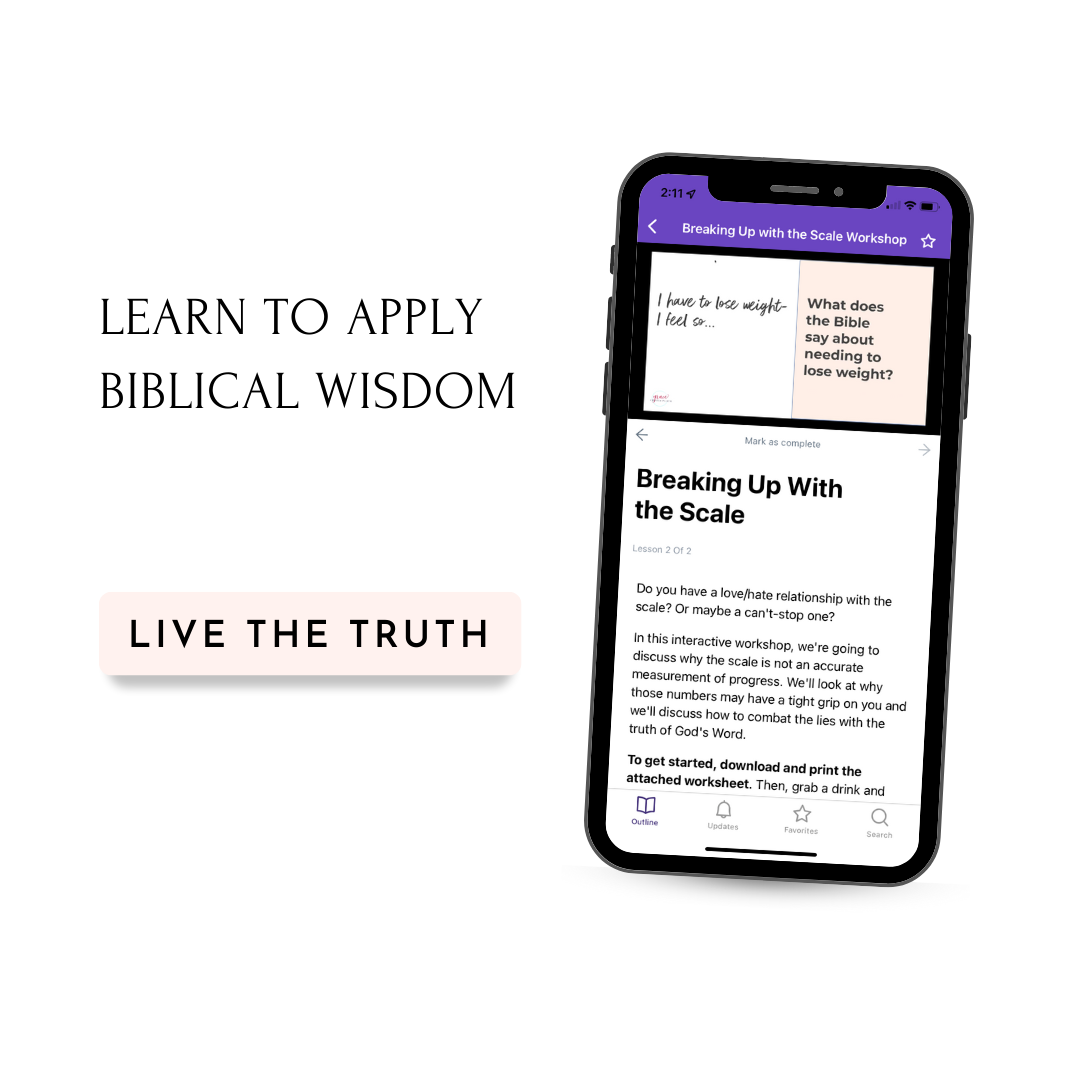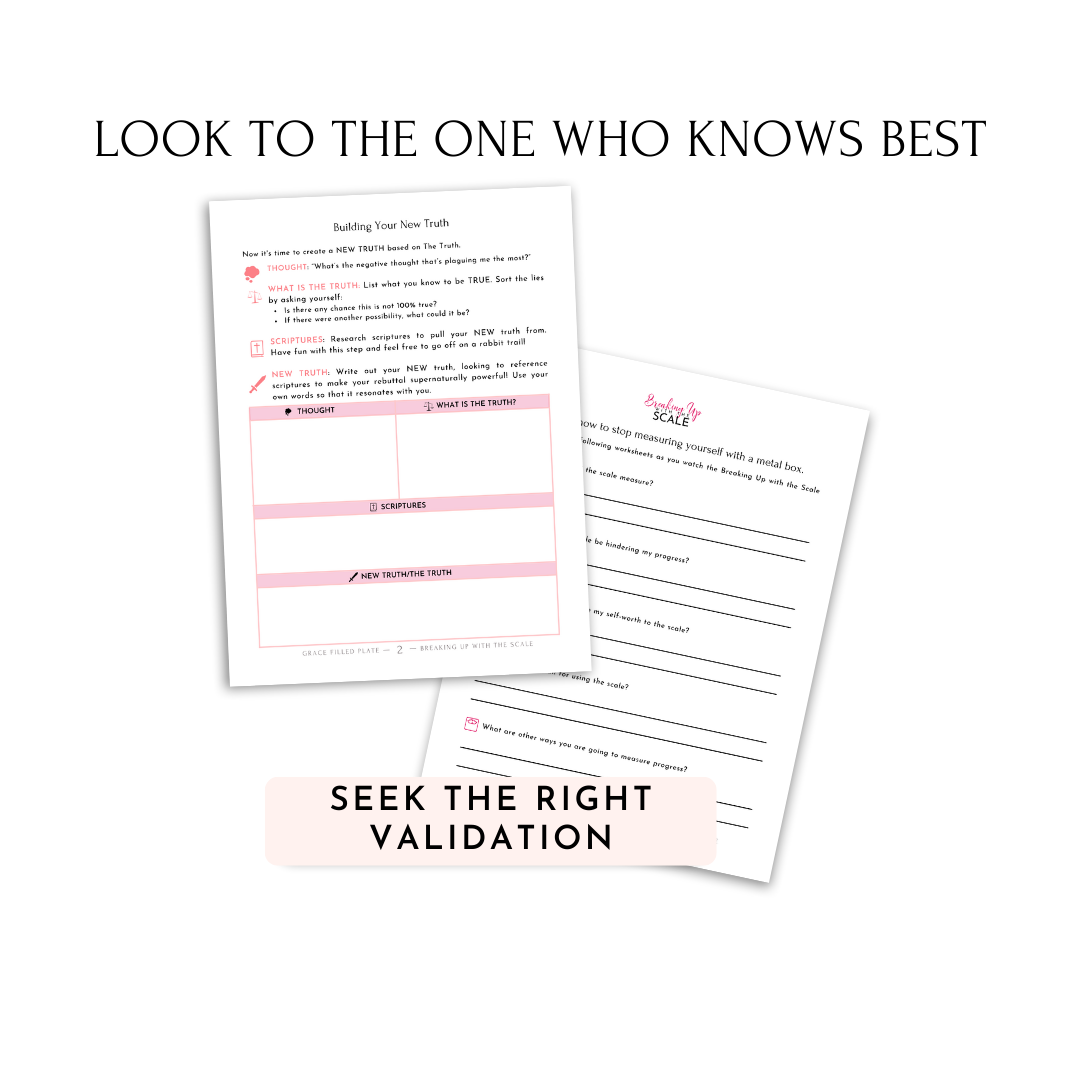 Very thought provoking!
I completed the training last night after a weekend camping which meant extra food like s'mores, muffins for breakfast, a trip to the camp store for ice cream. It reconfirm the all or nothing thinking I'm trying to get rid of and made me realize the scale is not my only source of measuring my success. I've created a new way of measuring and I'm going to focus on my inner self.
Great!
I really enjoyed this. I have to say there were a few points that had never considered before, and I'm excited to try them out.
Shipping

DIGITAL DOWNLOADS and will be delivered to your email address. These are not physical products and nothing will ship.

The Grace Filled Plates paperback and Spiral bound Studies will be printed and shipped by a thrid-party.

Refunds

🖥 DIGITAL PRODUCT REFUND POLICY

Use any DIGITAL product for 30 days and if you're not happy with the changes in how you think and feel, simply email Brandice@GraceFilledPlate.com for a full refund within 48 hours. 

📒 PRINTED PRODUCT REFUND POLICY

All sales are final. We do not accept returns on PRINTED items.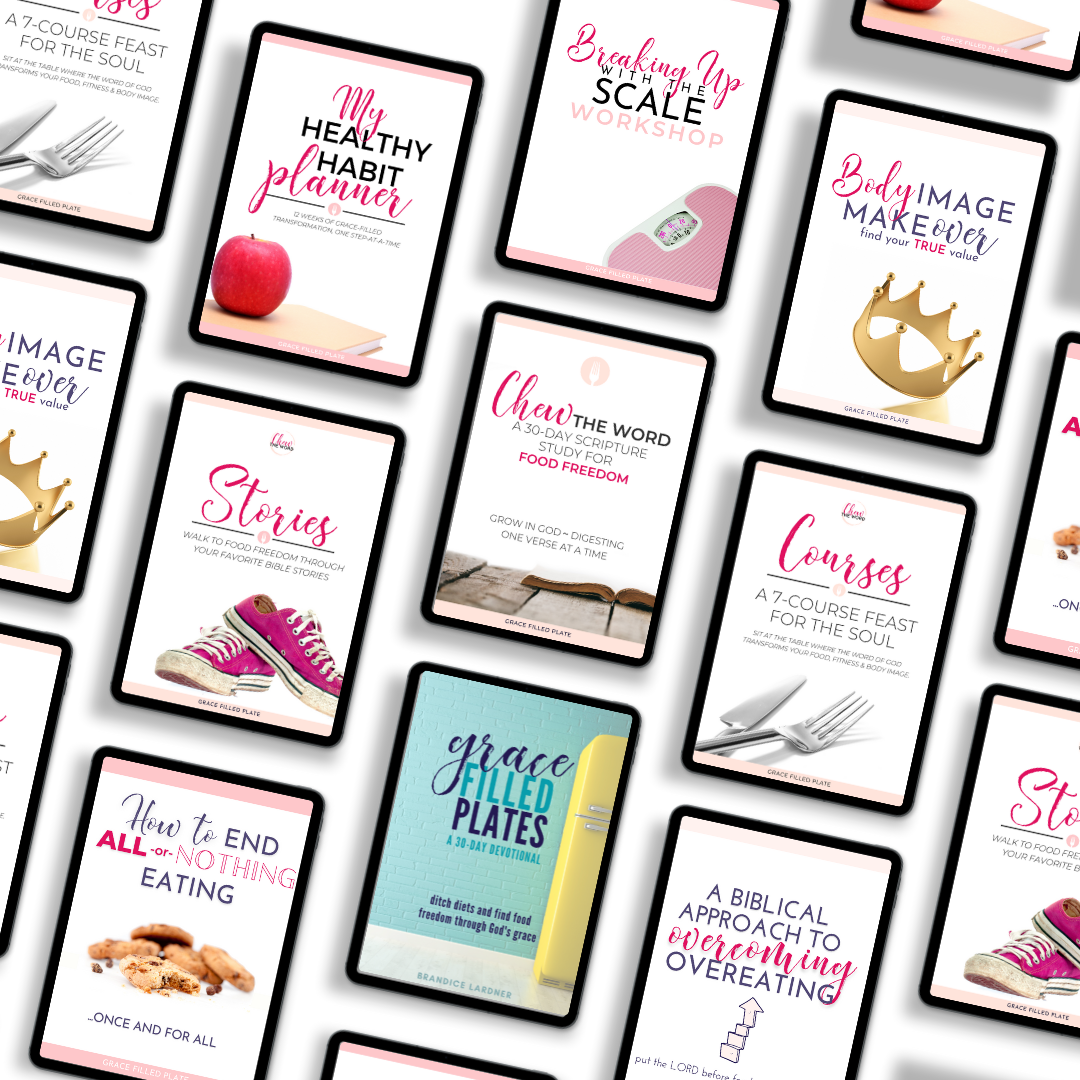 Get on the road to food freedom
Resources created to help you ditch diets, eat well, and let your light shine!