Regular price
Sale price
$24.97 USD
Unit price
per
Sale
Sold out
Share
Discover how to reach your goals YOUR way, as you create healthy habits that transform your life.
This simple, powerful planner equips you with the same goal-setting and habit selection strategies that world-class coaches use. It helps you to stop diet-hopping and learn how to make new choices in small, sustainable ways which add up to BIG results!
Learn how to apply your faith to your food and exercise choices in ways that FIT into your life!

YOU'LL LEARN HOW TO...

Unearth healthy eating habits that work for YOU.
Choose weekly goals that practically guarantee your success.
Navigate the ups and downs of your health journey without getting sidelined by the challenges.
Develop a customized healthy lifestyle that you can live with…for a lifetime!
YOU'LL RECEIVE...

A detailed goal-setting and habit-planning guide, so you can plan your next 12 grace-filled, transformative weeks.
A detailed "how to" guide for using your planner.
A daily habit planner worksheet and 12 weekly check-in guides
Access to our BONUS Habit Planner Hub, with additional lessons and resources to help you on your 12-week journey to new healthy habits.
Is this a diet plan? Nope! The Healthy Habit Planner teaches you how to adopt new habits and routines that support you in reaching—and maintaining—your goals. You'll learn how to make systematic changes so you discover what works for you and what doesn't.
When you create your ideal, customized plan, you can tune out external voices telling you what to eat because your eyes are locked on what GOD has for you!
This product is a DIGITAL DOWNLOAD and will be delivered to your email address. This is not a physical product and nothing will ship.
View full details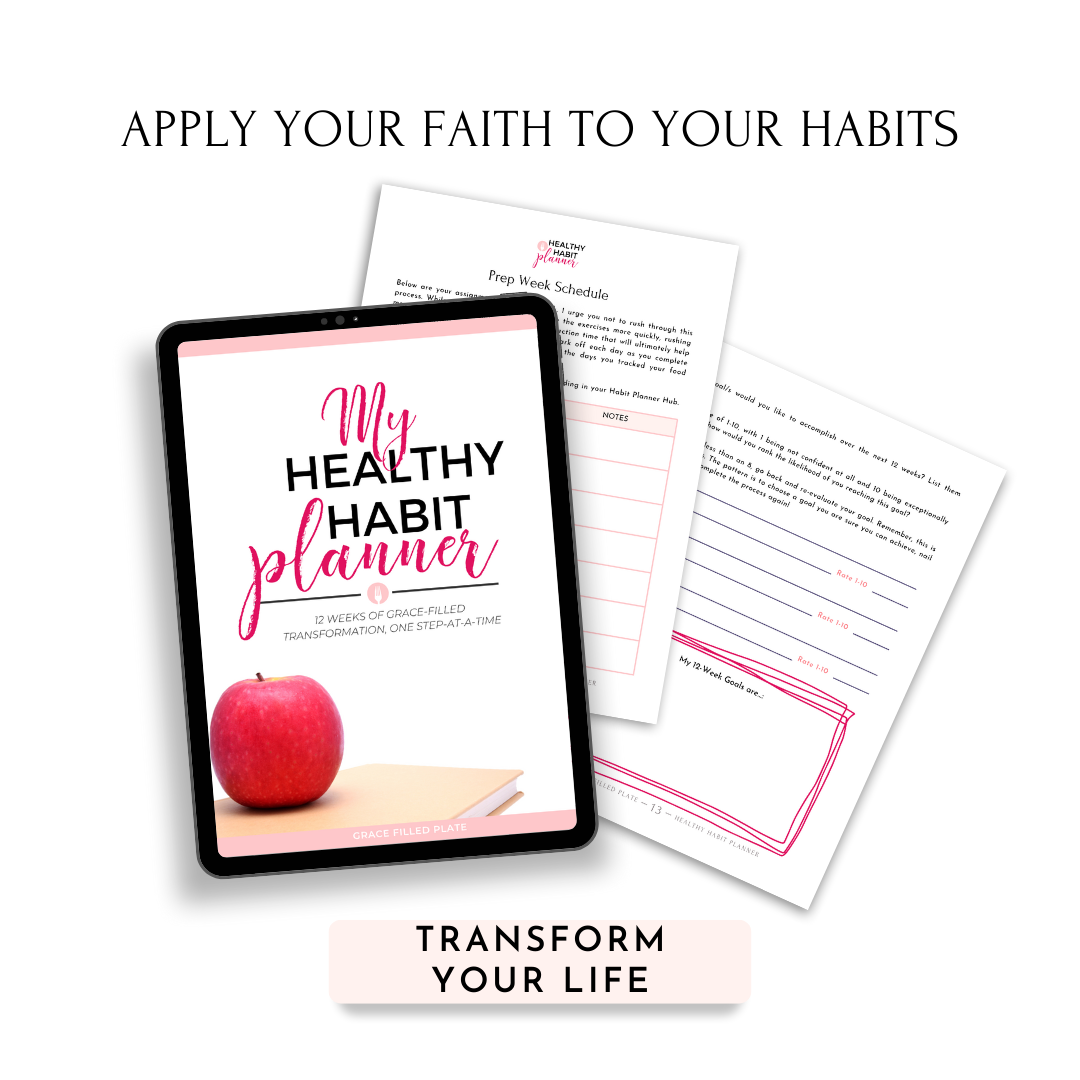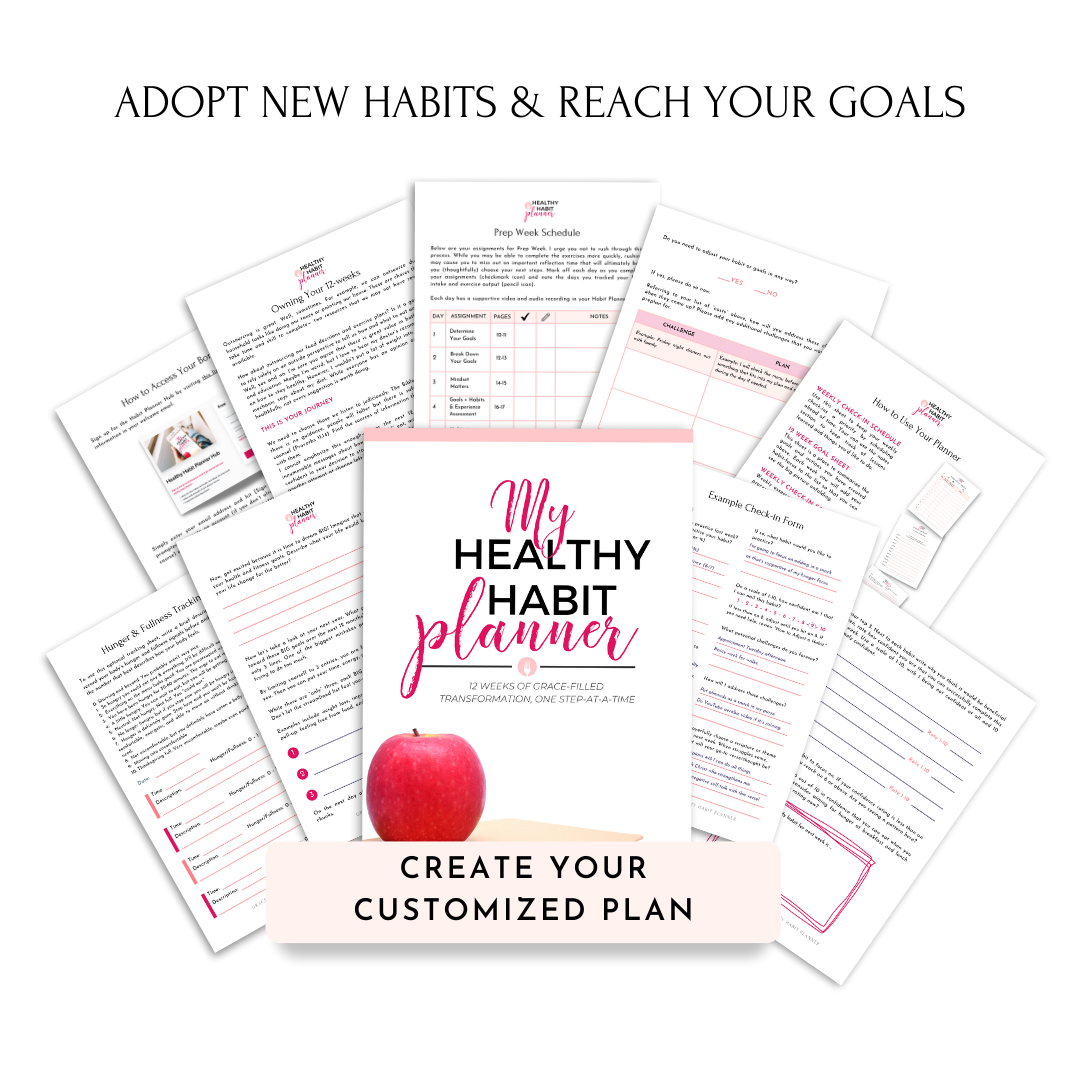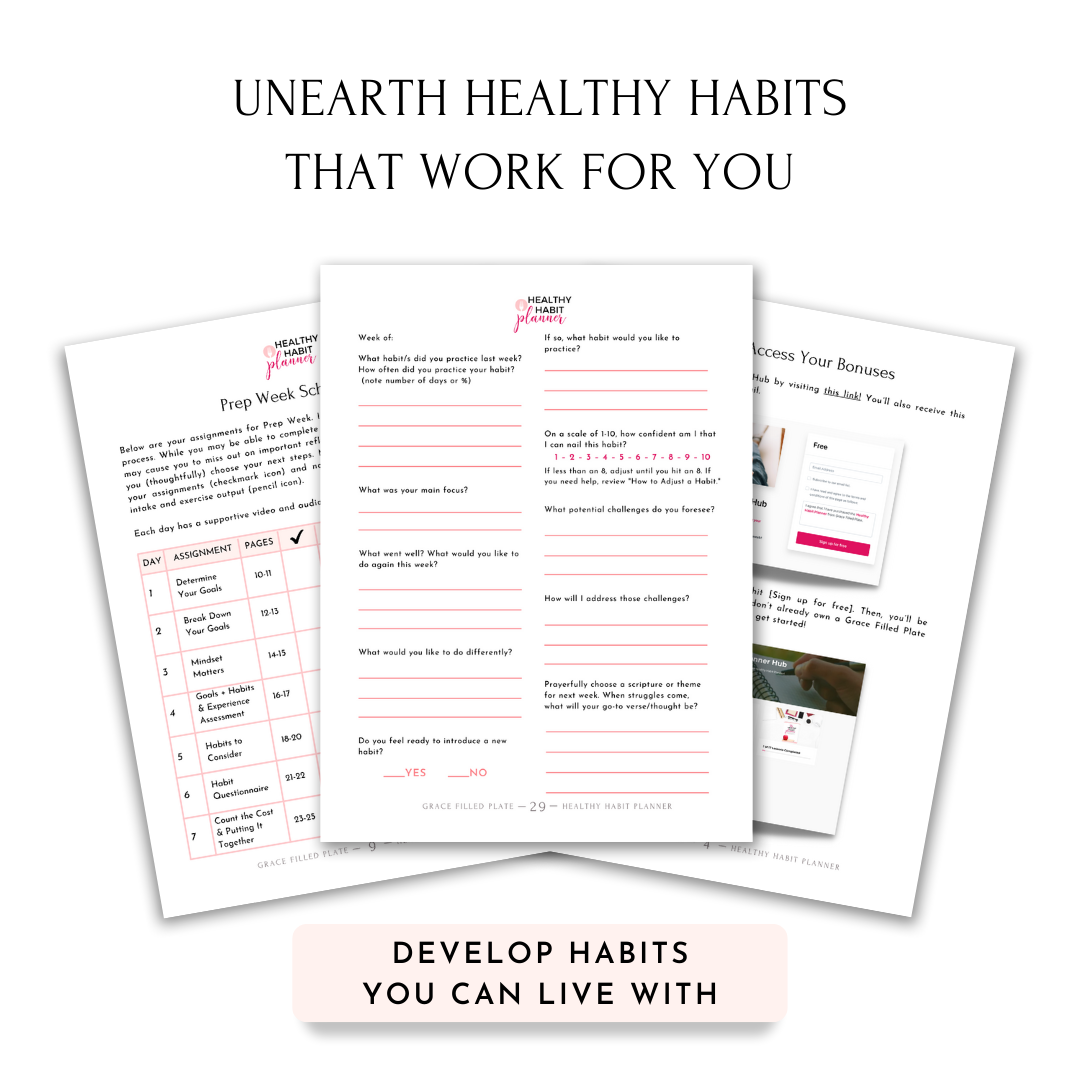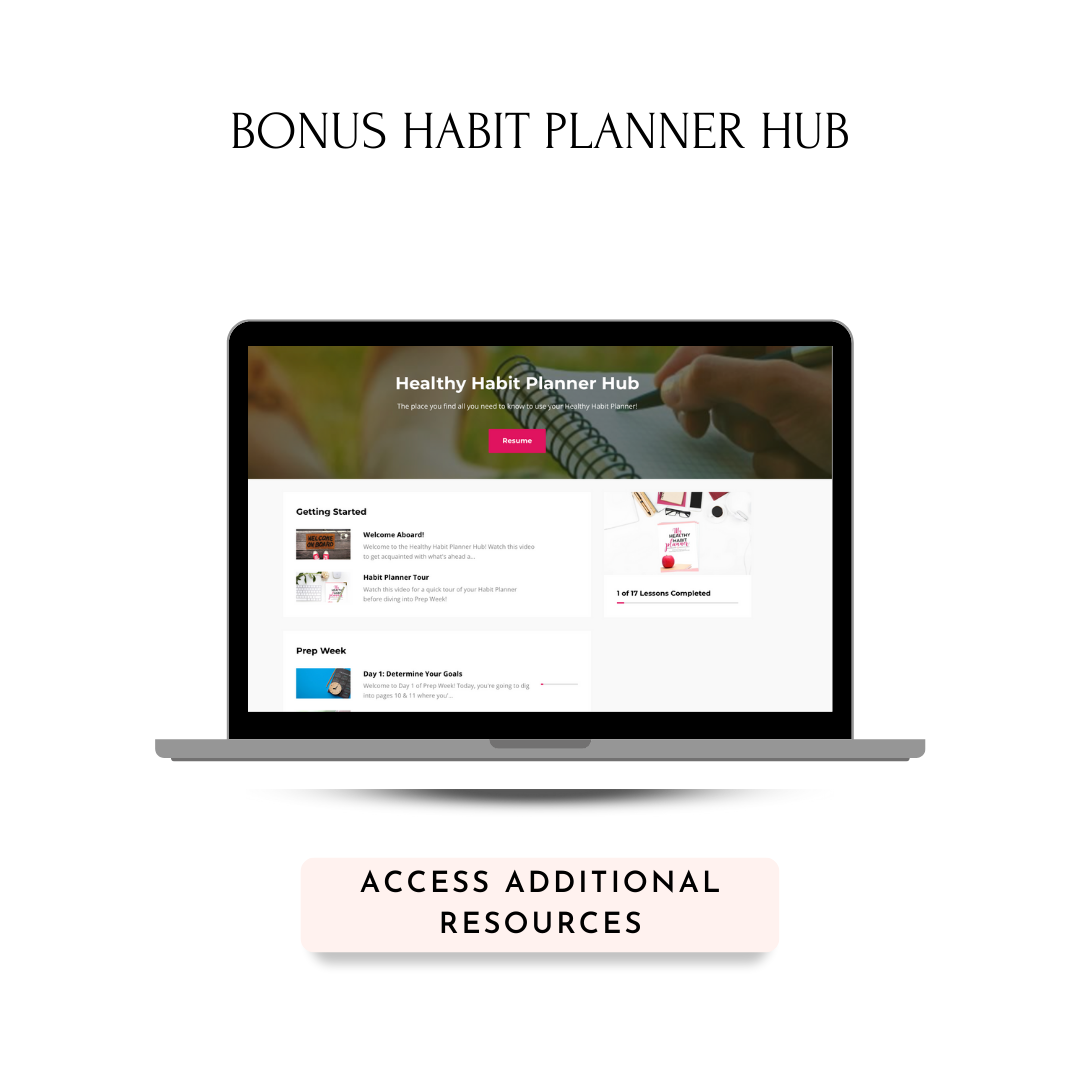 More peace after 1 week!
When I found Grace Filled Plate my anxiety was thru the roof. Weighing and measuring food, weighing in daily, logging food, exercise and water, doing lessons, reading all my weight loss fb groups! I'd made idols of all that!
After doing week 1 in the healthy habit planner I'd found the peace of Jesus I was missing. Spending more time with Him had gotten pushed back with the idols.
I finally found a goal to be rid of sweets except for a birthday or holiday and I did 9 days with His help and I didn't miss it. Yesterday was my 69th birthday and I enjoyed ONE portion size of my birthday cake and enjoyed it. It feels so good to have ditched the rules and regulations.
Loving this!!
This planner is wonderful. It makes it so much easier to make lasting changes and to shift my focus from doing everything "perfect" to making progress in the right direction. I'm so thankful for this. It's so sustainable <3
Finally - a real way to develop healthy habits
The prep week materials are just what I needed - time to read, listen to the lectures, and plan my next moves. Brandice is NOT pushy, which for me, is perfect - at my age (mid 60's), that last thing I need is some young fit person telling me what I must do and not do to achieve my goals. Her calm presence is welcoming and reassuring. I'm through prep week, and have goals that I know I can achieve - and build on that will result in permanent healthy changes. If you are on the fence - give healthy habits a try, it is worth it.
Keeping on Track
I love the Healthy Habit Planner and rely on the daily planner portion to keep me on track. I need the questions that allow me to assess what went wrong and what went well. It's only through digging deep that I am finding where I have mis-stepped. Everything from Grace Filled Plate is amazing and so easy to use. I upload all my studies (and freebies) to Notability and use my ipad for everything. Easy to keep track of and organize all the great information.
3rd week in
What a wonderful way to become and stay healthy! this is the first plan I've used that I don't feel like I'm trapped - And the greatest thing about it??? I'm growing in my relationship with the Lord not with food :-) So thankful this program came my way. Thank you!!
Shipping

DIGITAL DOWNLOADS and will be delivered to your email address. These are not physical products and nothing will ship.

The Grace Filled Plates paperback and Spiral bound Studies will be printed and shipped by a thrid-party.

Refunds

🖥 DIGITAL PRODUCT REFUND POLICY

Use any DIGITAL product for 30 days and if you're not happy with the changes in how you think and feel, simply email Brandice@GraceFilledPlate.com for a full refund within 48 hours. 

📒 PRINTED PRODUCT REFUND POLICY

All sales are final. We do not accept returns on PRINTED items.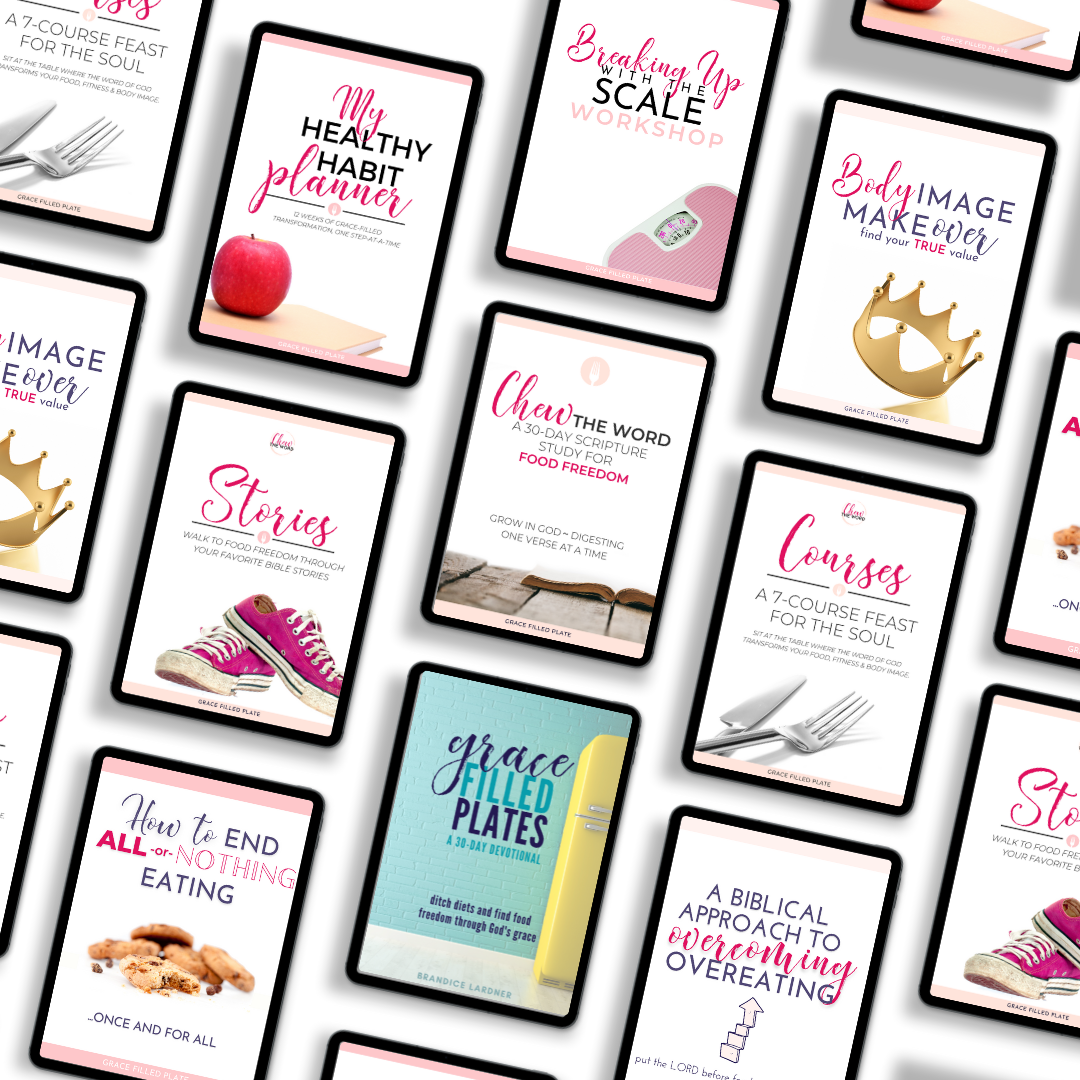 Get on the road to food freedom
Resources created to help you ditch diets, eat well, and let your light shine!