Regular price
$25.94 USD
Sale price
$22.97 USD
Unit price
per
Sale
Sold out
Share
Use the tools and fruit of your faith to walk away from the law and into food freedom.
These two Chew the Word Bible studies give you 15 whole weeks of tuning into God's guidance for YOU as you walk away from overeating into food freedom. As you feast on spiritual and practical Bible truths, you'll nourish and equip yourself to leave behind the unhealthy habits that are keeping you stuck!
Learn how to put God's word into action as you glorify Him with your health and fitness choices!

YOU'LL LEARN HOW TO…
Plant the seeds that God will water to produce remarkable fruit in your life.
Suit up in the armor of God so you can find victory over your food and body image challenges.
Hear the voice of the Holy Spirit daily so He can help you change your mindset about food and your body image.

YOU'LL RECEIVE…
A detailed how-to study guide in each Bible study, so you can dive in head first!
Armor [ A Chew the Word Study]: a 6-week Bible study to help you suit up for your daily challenges so you run to Him instead of the pantry.
Fruit [A Chew the Word Study]: a 9-week Bible study that digs deep into the Fruit of the Spirit—powerful, priceless characteristics that are a gift from God.
BONUS Fruit reminder cards for when you need a refresher on how to apply each fruit of the Spirit.
BONUS Armor reminder cards that you can keep within reach when you need to suit up fast.
I've read about putting on the Armor of God but how do I actually do that to battle overeating? I get it, sis—we can read the Bible and nod our heads in agreement with the truths we read but how to apply them in daily life can feel elusive. This is exactly why I created this study: to help you (with the help of the Holy Spirit) take what you read in the Living Word and apply it right away. You'll be in awe of how a few simple questions will take you from wondering to walking it out! 
Other than self-control, what does the Fruit of the Spirit have to do with healthy eating? First things first, the Fruit of the Spirit is a GIFT from God. If you've struggled to walk in self-control, it's probably because you're trying to rely on your own strength. 
But, the Fruit is so much more! Imagine what your life would look like if you ate with love…love for yourself, for God, and for others? 
You'd take better care of your body out of love for what's been gifted to you. 

You'd allow yourself to enjoy treats when it was a loving thing to do for yourself. 

You'd eat in a way that allowed you to feel your best so you could serve others, in love. 
This is just a small taste of how the Fruit of the Spirit can transform how you eat. 
Be sure to check out the original Chew the Word Scripture Study too! It helps you chew on spiritual and practical Bible truths, so you can quit questioning every bite and find peace with food instead.

These products are DIGITAL DOWNLOADS and will be delivered to your email address. These are not physical products and nothing will ship.
View full details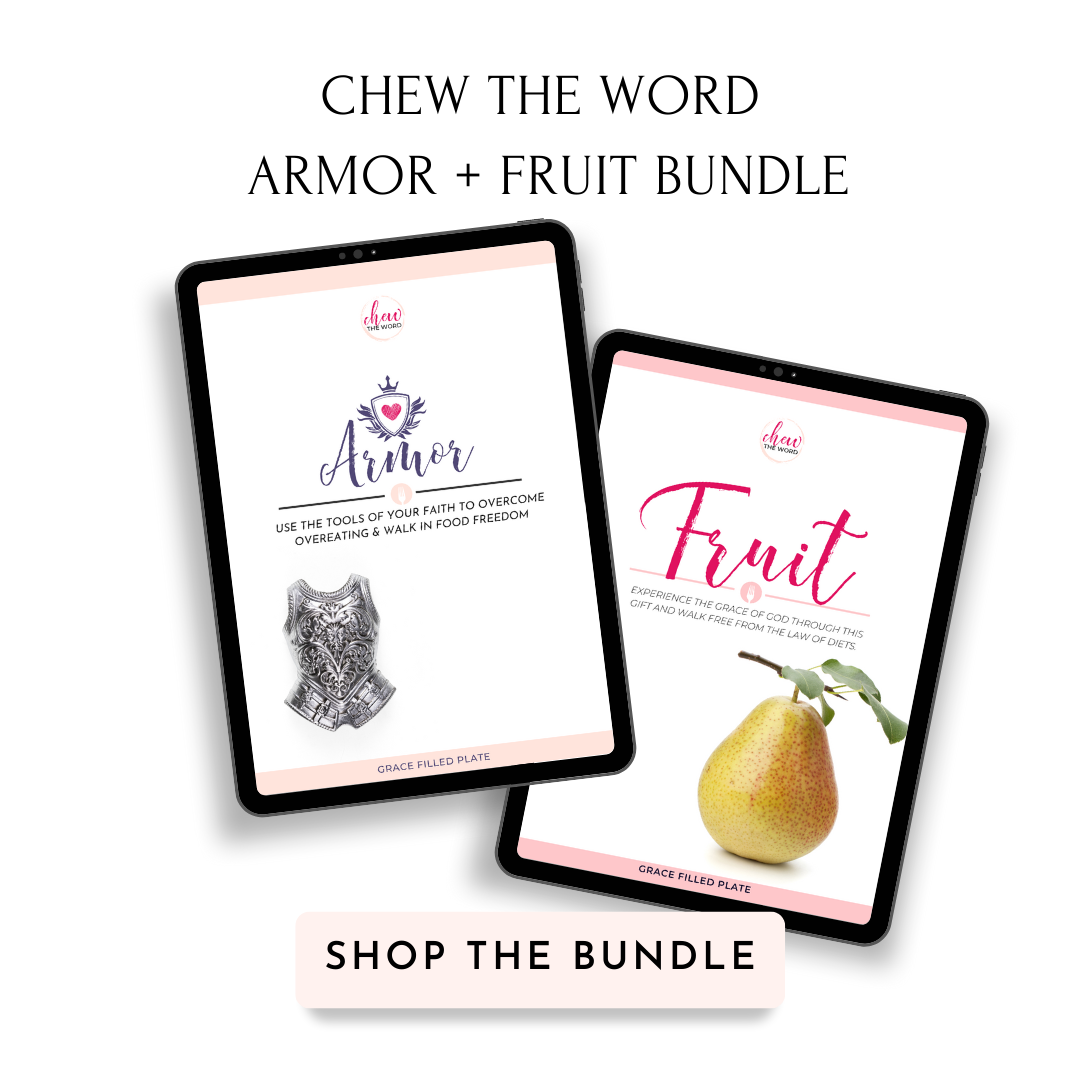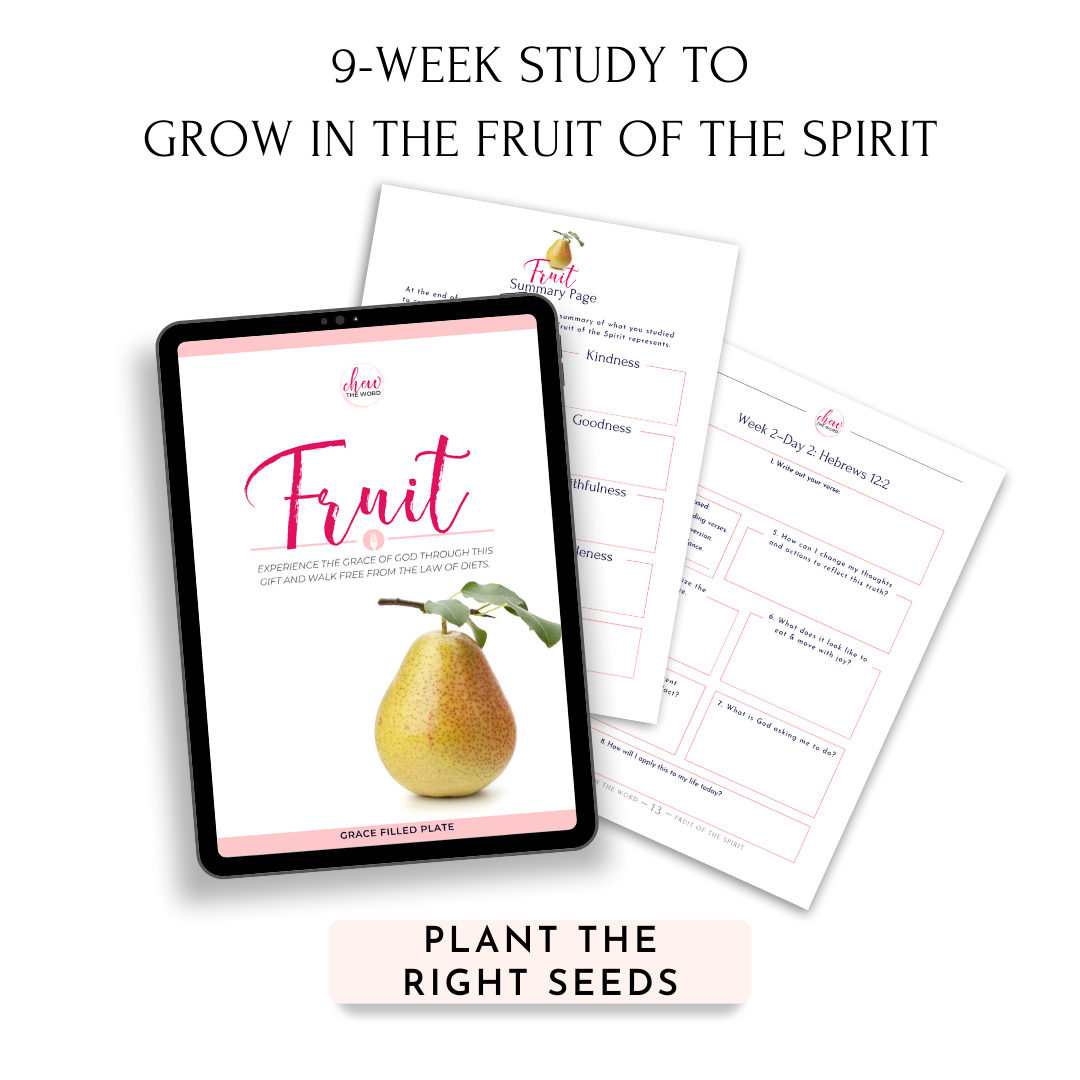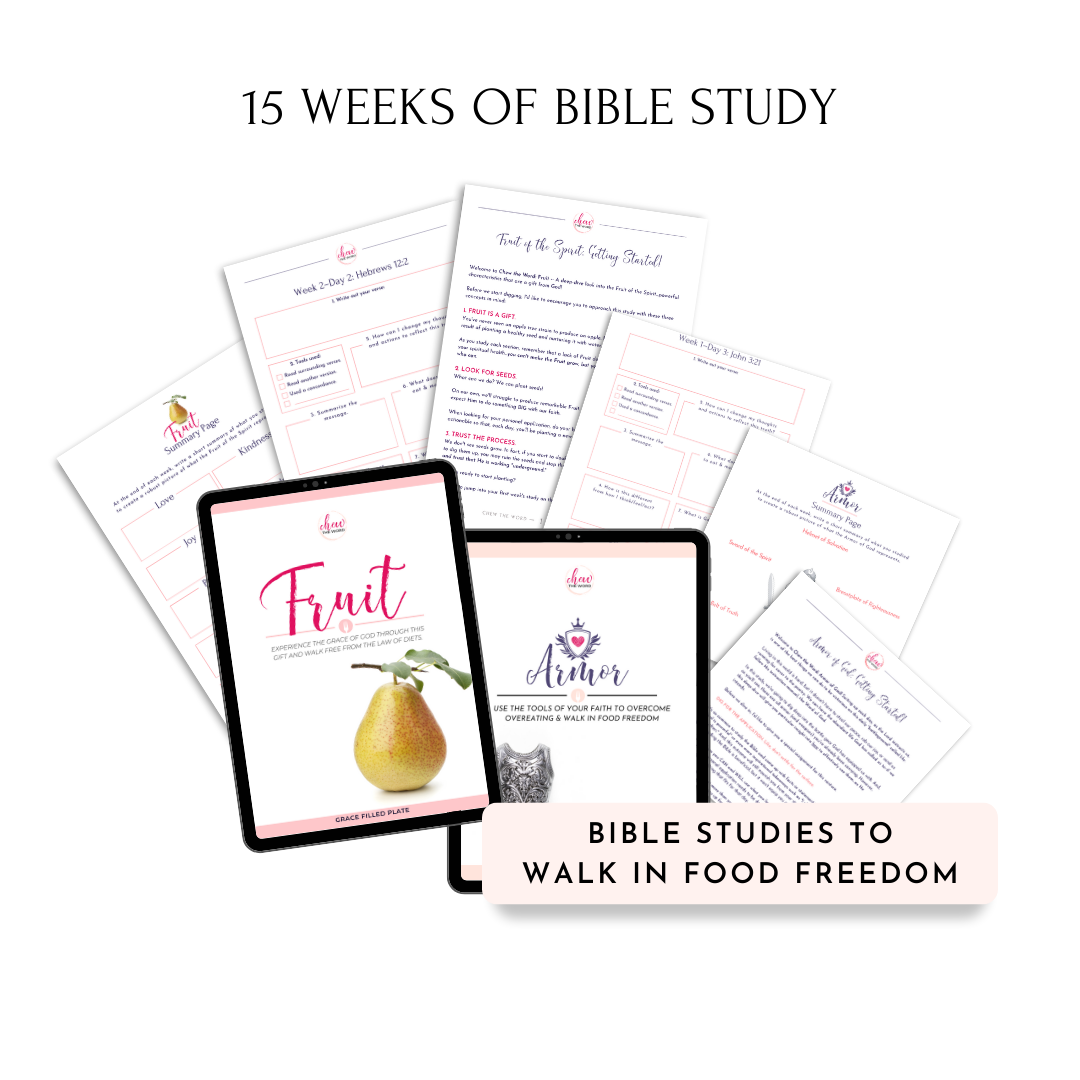 Shipping

DIGITAL DOWNLOADS and will be delivered to your email address. These are not physical products and nothing will ship.

The Grace Filled Plates paperback and Spiral bound Studies will be printed and shipped by a thrid-party.

Refunds

🖥 DIGITAL PRODUCT REFUND POLICY

Use any DIGITAL product for 30 days and if you're not happy with the changes in how you think and feel, simply email Brandice@GraceFilledPlate.com for a full refund within 48 hours. 

📒 PRINTED PRODUCT REFUND POLICY

All sales are final. We do not accept returns on PRINTED items.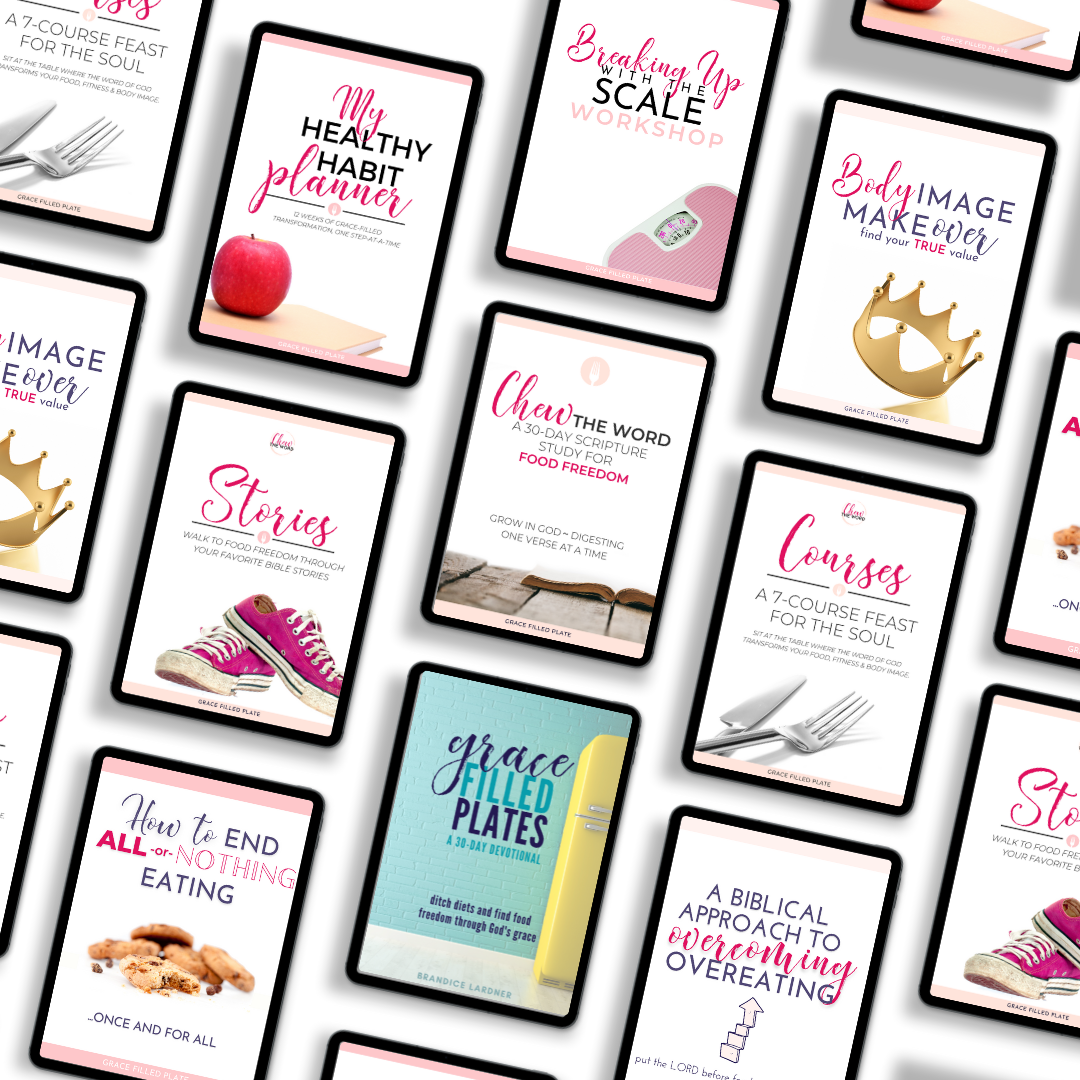 Get on the road to food freedom
Resources created to help you ditch diets, eat well, and let your light shine!