Regular price
Sale price
$14.97 USD
Unit price
per
Sale
Sold out
Share
It's time to look at your favorite Bible stories through a whole new lens!
In this 6-week study, you'll devour familiar Bible stories from a fresh, personal perspective allowing you to connect them to what God may have to say to you about your food and your body. Each story reminds you of who you are in Christ, and that you can trust Him to guide you in all of your daily choices—including your eating!
As you get to know the Lord—and yourself—better through Stories, you'll renew your mind with His truth. You can trust Him to unfold the map for your journey to food freedom! 
YOU'LL LEARN...
Go beyond a "diet" mindset

and dig into the heart of your food struggles.

Apply God's Word

to the heart issues that underlie your eating challenges.

Finally find freedom

from your body image and self-worth issues.
YOU'LL RECEIVE...
A detailed how-to study guide

with examples, allowing you to jump into the study with confidence!

30 weekday Bible study worksheets

with purposefully selected Bible stories that speak directly to your relationship with food and your body.

A clear action step

for each day of your study.

6 weekly reflections

to help you survey the ground you have covered, and see ways God is at work in your life.

BONUS Stories Quiet Time Cheat Sheet

—strategies to help you craft a quiet time plan that works for you!
How can I find food freedom through Bible stories? This eye-opening Bible study will teach you how to glean personal applications from the stories of God's people so that you can apply them to your relationship with food—from how you enjoy it, to how you struggle with it.
As you immerse yourself in these familiar stories, you'll explore the characteristics of these brave men and women who stepped out in faith. Discover fresh  inspiration and application in your pursuit of the life God has for you—free from the bondage of food.
Start a new path today, with Stories!
Did you know? Stories is included in the Chew the Word Bible Study Bundle! No more wondering what to do in your quiet time with the Lord. When you get the entire Chew the Word series, you score 17 whole weeks of tuning into God's guidance for YOU on your walk to food freedom.
This product is a DIGITAL DOWNLOAD and will be delivered to your email address. This is not a physical product and nothing will ship.
View full details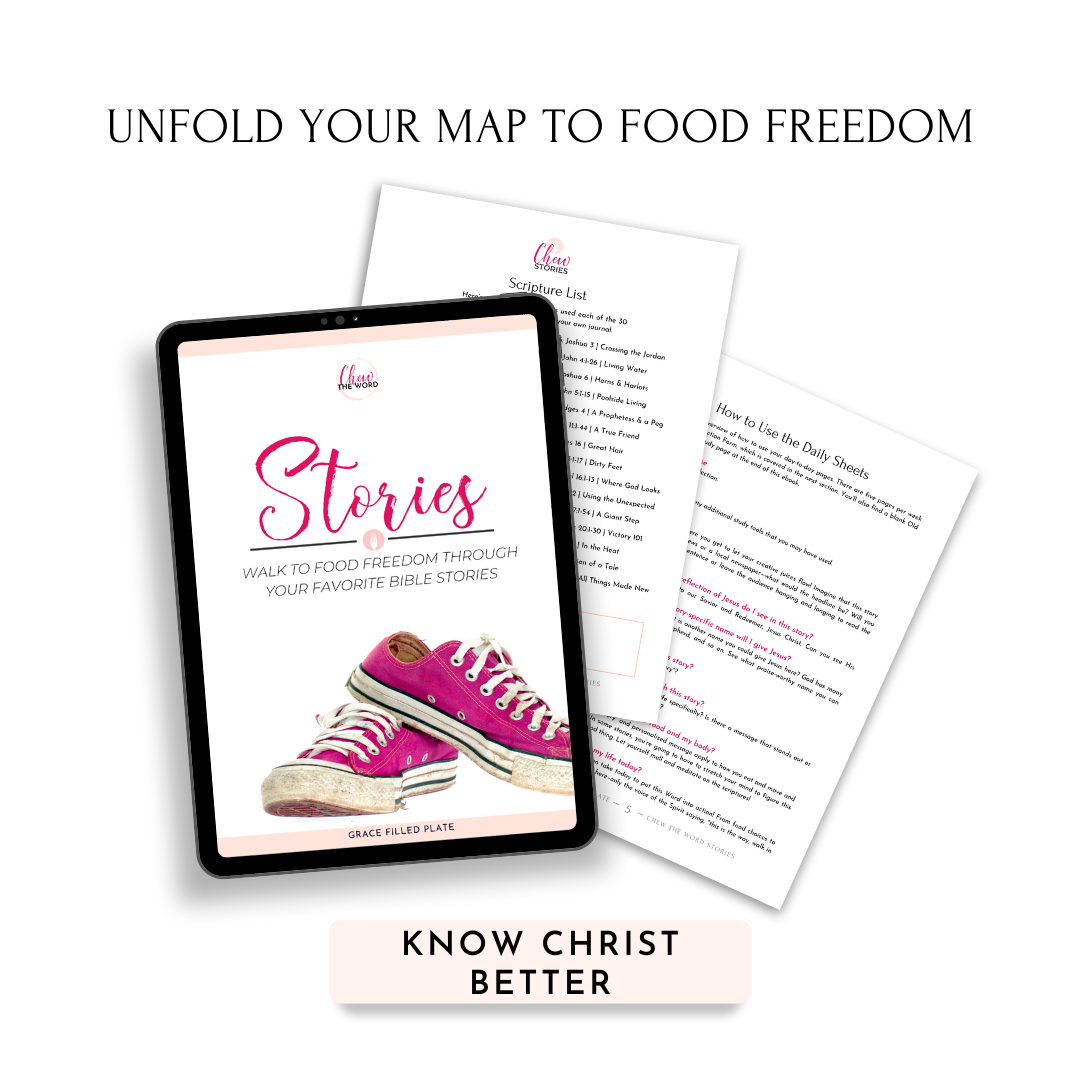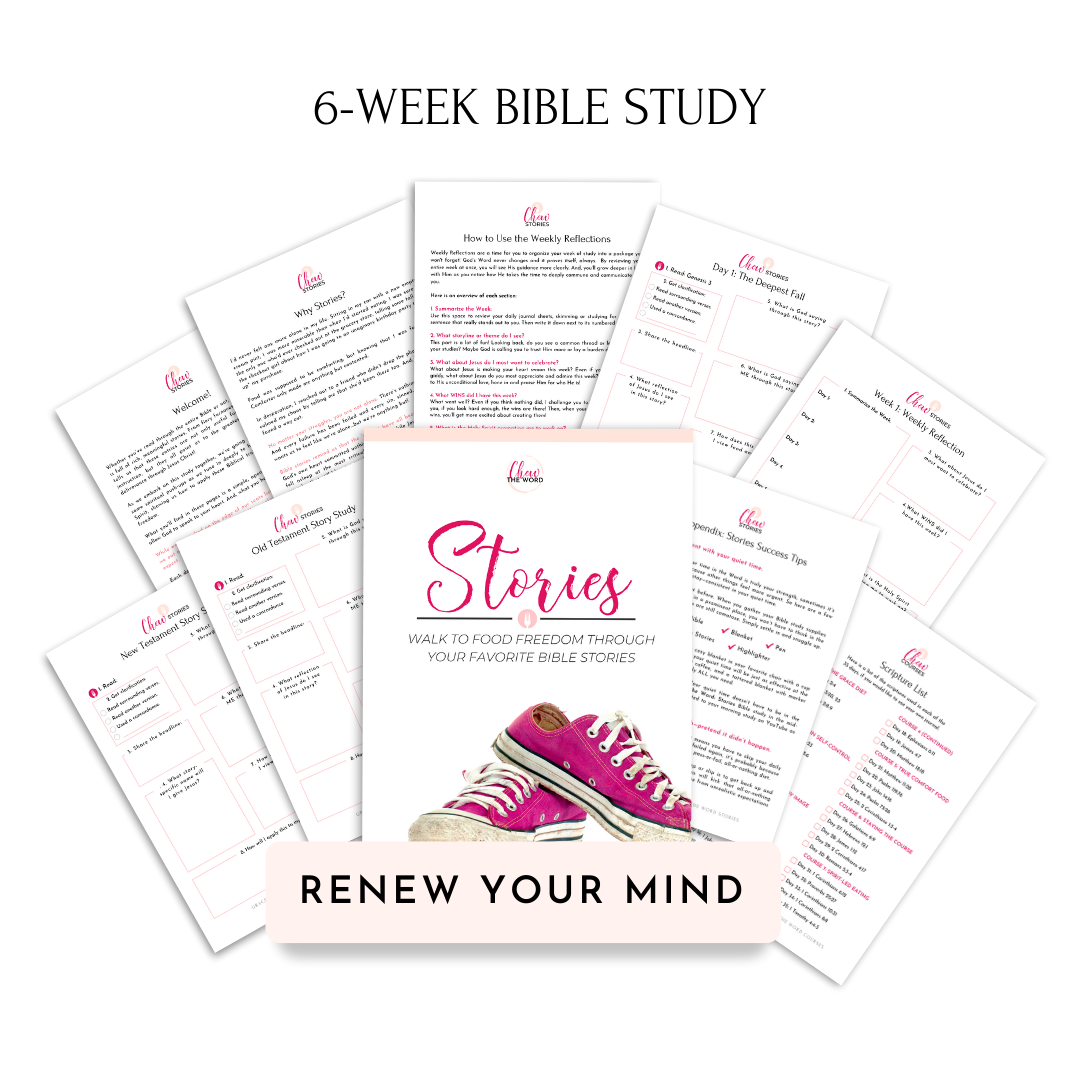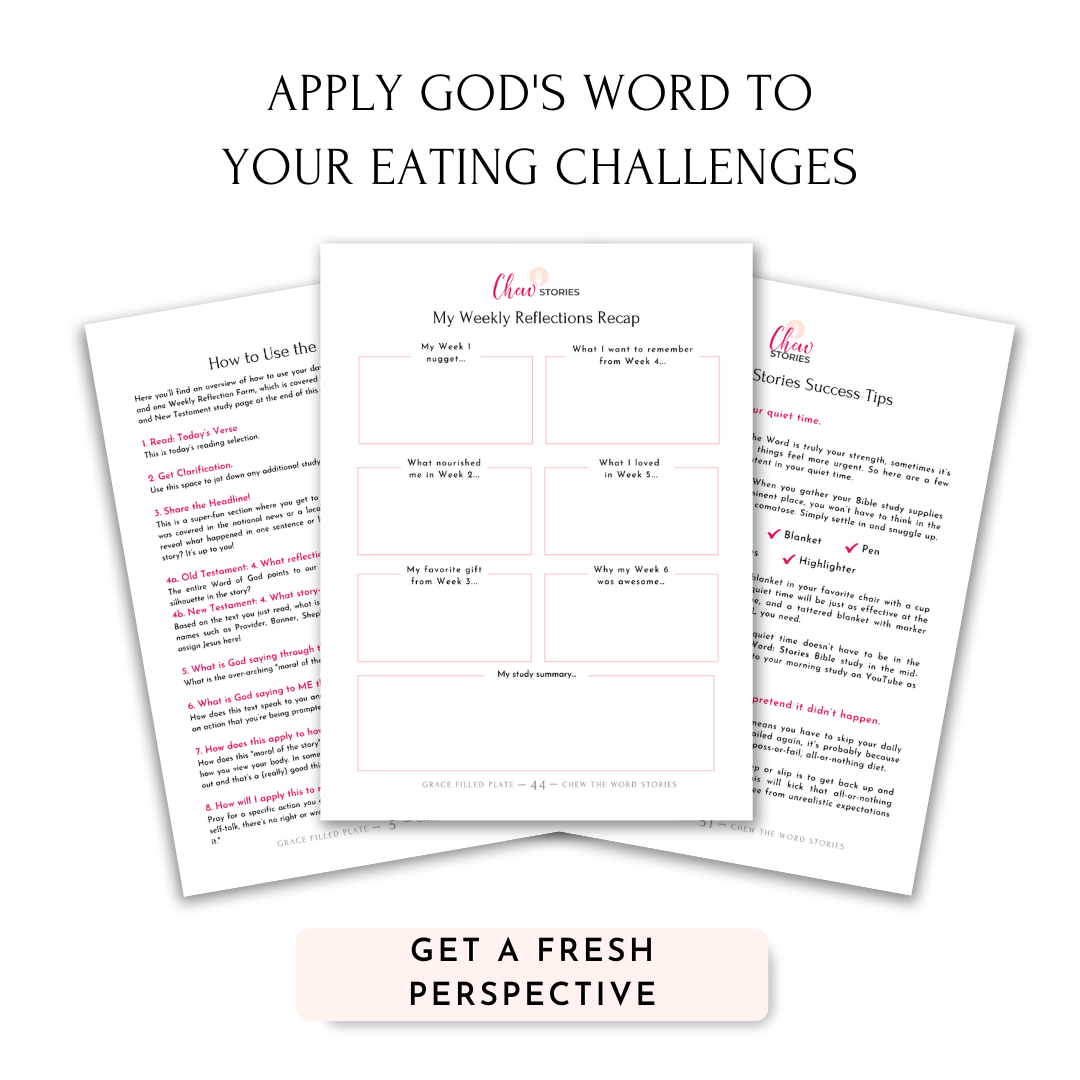 A study that helps with everyday choices
This study is helping me to see my relationship with food differently, and also has been helping me to understand better what it means to walk in the Spirit, and obey His leading in my life. Also, I think it is a awesome tool to teach us how to study the Bible on our own, how to dig out treasures from it, and how to listen to God's voice as He points out something from the text.
Growing and Loving It!
Each study either teaches me something new or renews my memory of a truth that brings me closer to God. I'm loving the results!
Perfect timing
I only recently found GraceFilledPlate and had started the Chew the Word study when Stories came out. I decided to start Stories and join the online group on 2/24/20. I am so glad I did! The passages we read and worked through have been so
Impactful. Not just related to how I view food and my body, but all of life! Had no idea COVID-19 would come upon our world the way it did, but you know what, all these scriptures in Stories were/are perfect for that, too. So much encouragement and vivid reminders that the battle - and the victory - belongs to the Lord. I can not recommend this study enough. Thank you, Brandice!
Just what I needed!
I had ordered the study Chew the Word over a year ago and had finally started it and was absolutely loving it when I saw notice of this new study "Stories" and it came with a BONUS an online study group. After some debate I put Chew the Word on hold and started Stories. I am so thankful that God led me in that direction. Through these stories and sharing with the other women, I can feel my relationship with Christ growing. I have been wanting this for sometime and have finally found the tool to get me going in the right direction!! I WAS a major stress eater, and in the midst of the covid 19, military momma (x2), a teacher ... I could go on and on :-) but thanks to this study I am developing my relationship with Christ and going to him for comfort - instead of food! Praise God!!
Going Deeper
This is an amazing study! And if you want to go deeper into your life with Christ, I highly recommend this book for you. You will get to know Christ better but you will also begin to understand yourself better too. This is an amazing tool for your everyday life and for understanding your trouble areas a little better. Pour into you! It's the perfect time while most of us our on quarantine. Your worth it! Go ahead. What are you waiting for?
Shipping

DIGITAL DOWNLOADS and will be delivered to your email address. These are not physical products and nothing will ship.

The Grace Filled Plates paperback and Spiral bound Studies will be printed and shipped by a thrid-party.

Refunds

🖥 DIGITAL PRODUCT REFUND POLICY

Use any DIGITAL product for 30 days and if you're not happy with the changes in how you think and feel, simply email Brandice@GraceFilledPlate.com for a full refund within 48 hours. 

📒 PRINTED PRODUCT REFUND POLICY

All sales are final. We do not accept returns on PRINTED items.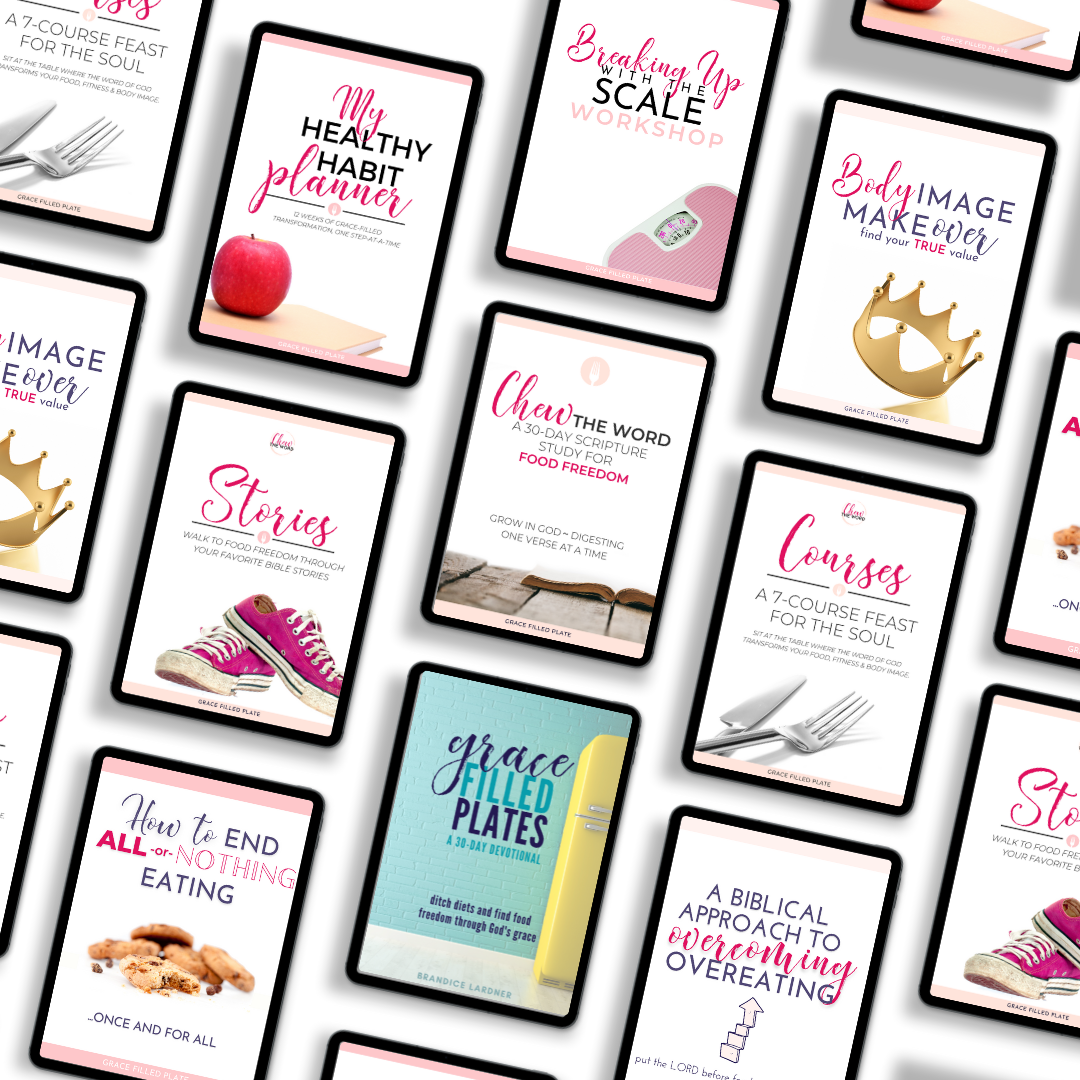 Get on the road to food freedom
Resources created to help you ditch diets, eat well, and let your light shine!